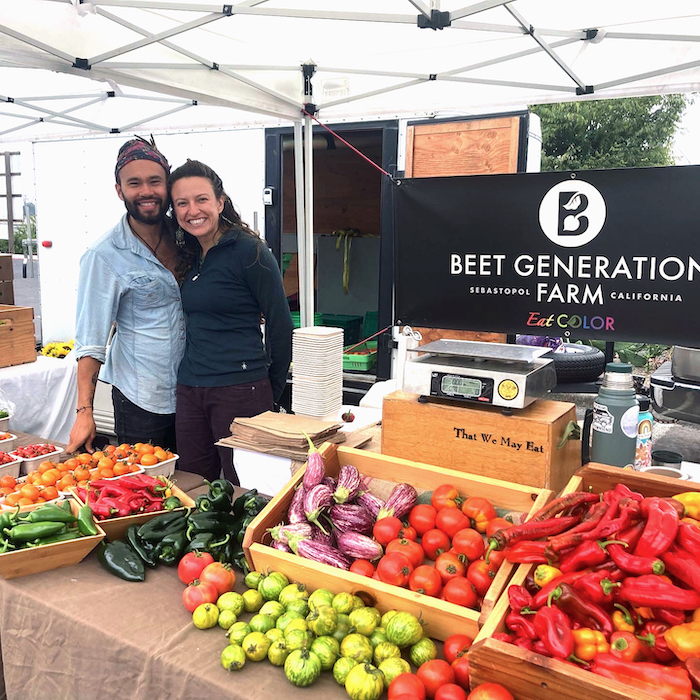 I'm Aleta Pierce, the new owner of Beet Generation Farm. The farm was started in 2010 by my dear friend and mentor Libby Batzel, who taught me how to farm when I was fresh out of college and unsure what to do with my life. She opened my eyes to the joys of farming, and her passion for growing beautiful vegetables was contagious. We stayed connected while I managed an urban farm in the East Bay for six years. Then last year, my partner Andrew and I purchased the farm business from her. We feel blessed to continue her beautiful work, and to breathe some new life and inspiration into Beet Generation Farm.
Our customers love us for our lettuce mix, raspberries, cucumbers, melons, sweet and spicy peppers, and more. We believe in tending to soil health and the environment first, and we carefully steward the land we're on to ensure its fertility and abundance for generations to come. We pour a lot of love into the food we grow, and you can taste it.

Describe a typical day on your farm.
One thing I love about farming is that every day is different! Even though we can get into routines, the plants always have surprises. I'll describe a typical harvest day, which we do twice a week in the main growing season.
The crew gathers in the cold, early morning hours in the barn, sharing hugs and tales of our dreams the night before. We form a loose circle and begin to stretch—a warm-up routine that we find helps with the aches and pains of farming. We take a look at the harvest list of crops and quantities needed for the day, as well as the to-do list of projects once harvest is complete.
Then we load up our handy farm cart with coolers, buckets, and bins, grab our knives, and head to the field. We start with our lettuce mix, cutting each leaf with a careful eye for perfect leaves, dumping bucketfuls into coolers tucked in the shade. We then move on to raspberries, which don't hold their shape well in the heat, picking as many baskets as we can manage before the urgency to get to the rest of the field takes over. From there it's bunching greens, cucumbers, squash, herbs, root veggies, tomatoes, and peppers.
We break for lunch, laughing, joking and sharing snacks. We wash the veggies, grateful for the barn's shade and the cool water on our hands and arms as we dunk the veggies in for their bath, spin the salad mix dry. We pack CSA boxes, carefully and with love, double-checking to make sure each box has all the allotted items for the week. We load up the truck with coolers and bins for market.
Then, somehow, we walk our tired bodies back out to the field to tackle some post-harvest projects, usually hoeing to clear beds for the next succession of lettuce, or planting lettuce, or weeding around other crops. We blast some upbeat music to keep our spirits high, and are known to take short dancing breaks in the pathways. We finish the day with some more hugs and high-fives. Then, exhausted and dirty, we make our way home for a hot tub and a hot meal, feeling so tired and so accomplished.

Name three unexpected sensory delights of farming.
The sounds of birds whistling during the day, transitioning into the crickets and frogs beginning their evening songs as the sun goes down.
The incredibly strong and delightful smell that overwhelms you when cutting and bunching basil.
Feeling like a kid playing in the mud when wiggling your fingers through moist soil as you pack trays for seeding.

What sustainable or environmental practices are you most proud of?
One big change I made last year was switching from plastic mulch in the fields to using reusable fabric mulch and straw mulch. The use of plastic mulch in farming is quite common, and for good reason. It helps keep in soil moisture (so you can use less water), suppresses weeds (so you can reduce labor spent weeding), and warms up the soil (so crops like tomatoes and melons can thrive despite foggy cool temps). But sadly, it only exists for a year at most and then goes to landfill. Uncomfortable with this much plastic waste, I transitioned the farm fully to reusable fabric mulch, which we roll up, store, and roll out again the next year to use again. I also use more rice straw mulch, which breaks down over time and adds organic matter to the soil.

If you could change one thing about the food industry, what would it be, and why?
Government subsidies! It's so frustrating that factory-farmed meat, dairy, and GMO wheat and soy products are so cheap, while their cost to the environment, animals, and people involved is so high. I would love to see small-scale regenerative farms getting subsidies from the government to help everyone gain access to healthy wholesome food, while the big polluters and chemical users get taxed for their harm to the environment.

What is your greatest challenge as a farmer?
As much as the physical labor of natural farming is hard on the body, I find my greatest challenge as a farmer is actually mental anxiety. In being a farm owner, I am responsible for thousands of plant lives, stewarding the land and water responsibly, and for feeding hundreds of families each week. It's a lot to keep track of: monitoring many different crop's needs, the timing of getting it all seeded, planted, harvested, the details of soil management and tracking the weather conditions. I find that it's sometimes hard for me to turn off my spinning mind, and I often teeter between feeling capable and on top of it all, and drowning in mental overwhelm and exhaustion.

When you're not farming, what are you doing?
When I'm not farming, I love to practice yoga, go for hikes in nature, dance, listen to live music, and cook up veggie-heavy feasts in the kitchen! I love gathering community and getting together with friends over good food.

Where can people find your products?
We sell every week at the Santa Rosa Original Certified Farmers Market at the LBC on Saturdays 8:30-1:00, and we have a CSA membership for weekly farm boxes. Our produce can also be found in the restaurants Psychic Pie in Sebastopol, and Sonoma Mountain Bread in Santa Rosa.
Photos: Libby Howard