Humor, Horror and Everything In Between
Ursa Born Explores the Liminal Possibilities of The Imaginists
The first time I saw the Imaginists perform, I was sitting in the shade of a ginkgo tree in Santa Rosa's Juilliard Park, surrounded by a lounging audience sipping beverages and snacking on picnic charcuterie. It was a performance of The Art is Medicine Show/El Arte es Medicina, a free, bilingual, entirely bike-powered show that toured local parks that summer. Trump was president, and the production was a wildly satirical political romp. Somehow, despite ending with the character President Corn eating a handful of feces, toilet paper trailing from the corner of his mouth, it was not nearly as ludicrous as what was happening in the real world. The play was witty, rebellious, horrifying, truthful, hilarious, and a little bit dangerous — much like everything the Imaginists do.
From the outside, despite its vibrantly painted orange door, the Imaginists' theater space tucked away in Santa Rosa's South A Arts District is quiet and unassuming. The building itself, declared "artist owned, artist occupied," was purchased by the Imaginists in 2017, thanks mostly to a campaign that garnered vast support from their community. I was welcomed in by founders Amy Pinto and Brent Lindsay as well as their old friend and long-time collaborator Stephan K. Patterson, a musician and actor largely responsible for the Imaginists' abstract, experimental podcast Theater in the Woods. With its large windows, roll-up cargo doors and high ceilings, the echoing space feels open and bare, but filled to the brim with limitless, liminal possibilities.
On any given day, you can be sure that extensive world-building is happening behind that bright orange door. This is not just the dreamy world-building you think of theater creating: an entertaining, immersive respite from the world outside the orange door, although it is that too. But much of their work is forming neural network-like threads that connect collaborators, audience members, students, supporters, multidisciplinary artists, ideas and visions—it is community-building, which is foundational to successful world-building. For the Imaginists, it is not just about getting people inside the theater, it is about getting theater out into the community.
Since the early 2000s, Pinto and Lindsay have been teaching, creating, and facilitating at a frenetic pace. Besides their creative endeavors (like collaborations with the Graton Day Labor Center to produce bilingual performances on topics like immigration), the Imaginists strive to bridge the arts equity gap, providing high quality programming to students from Title One schools like Luther Burbank Elementary right around the corner, Piner High and ArtQuest. "Our in-school theater residencies, after-school workshops, internships, and mentoring are designed to encourage creative freedom, to activate the individual voice, and to discover the power of collaboration," says Cheryl Itamura, an Imaginists' staffer and wearer-of-many-hats.
A PIVOT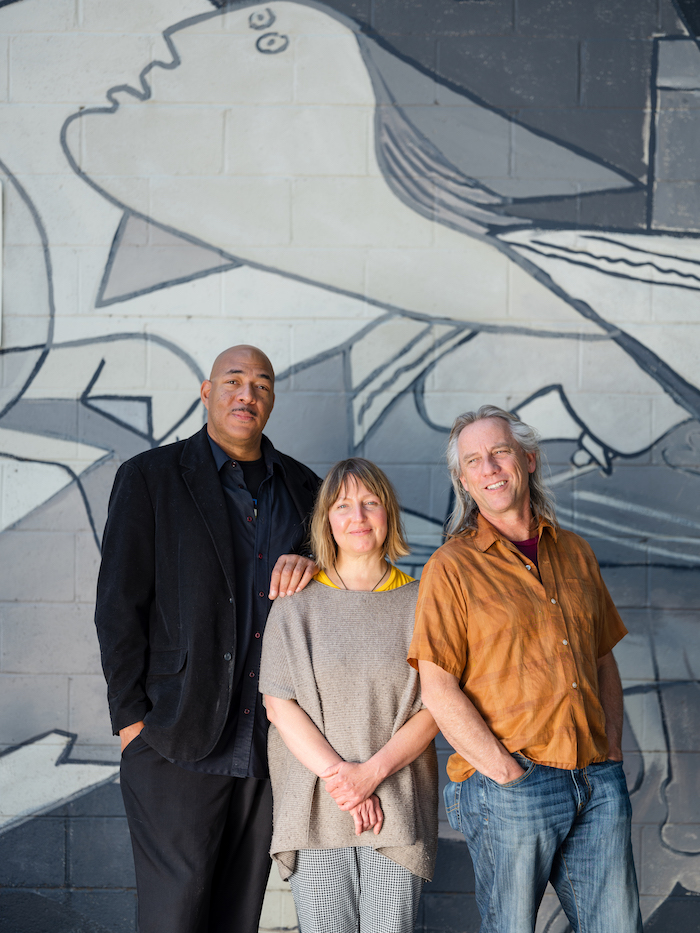 When the pandemic hit, the Imaginists had to grapple with how to slow down, to incubate new ideas and ways of being, and to reimagine what theater looks like in a world where you can no longer safely play to a packed house. Pinto tells me, "We really resisted doing online stuff because it seemed like everyone was doing it."
"Plus we were so burnt out on Zoom immediately, and it is so difficult to connect that way," Lindsay adds. Thankfully, all of their experience in unconventionality had them perfectly primed to pivot. Within weeks they were hard at work testing the boundaries of what, where and how theater can be.
Their first public pandemic project was Post-Theater, performances on postcards in collaboration with local artists across disciplines that landed monthly in subscribers' mailboxes. There was also Worm Moon, an audio-visual journey in which different artists designed abstract displays for the Imaginists' windows. Viewers scanned a QR code to listen to an ambient soundscape by Lindsay. The production followed the natural rhythms we'd become more attuned to as our experience of time shifted in lockdown, opening at sunset on the evening of March's new moon and concluding the evening of March's full moon, dubbed the "Worm Moon" in The Old Farmer's Almanac.
Pinto tells me, "It was so cool to be at home and realize that theater was happening and we weren't even there. Except that we sort of were there, but not really."
Then there was Takeout Theater, which Lindsay says was inspired by what the rest of the world was doing, including the restaurant down the street. "The language of theater is really a circle of reciprocation. So the takeout theater box was an effort to say, 'Here are some ingredients. Go home, make a piece of theater, film it with your iPhone and send it back to us, and we'll share it with this growing community all doing the same thing.'"
The project climaxed in a performance of sorts, where the big orange doors were rolled up and patrons watched actor-artists at restaurant-like work stations composing the takeout boxes. They wore wild sequined aprons and masks designed by local artists Big Mouth Unique and outrageously tall chef's toques, busily building boxes to background restaurant sounds as more and more spectators lined up outside to place orders.
Intermittently an opera would start playing, and the workers would have to stop what they were doing and perform a choreographed dance — an idea that sounded funny at the time of conception, but in practice was a brutal, sweaty disruption. "We were really in the weeds. The performance became very, very real. We crossed the line and it wasn't fun anymore," Pinto says. "It was pretty amazing, really," quips Lindsay. Somehow again, none of this was as absurd as what was happening in the real world.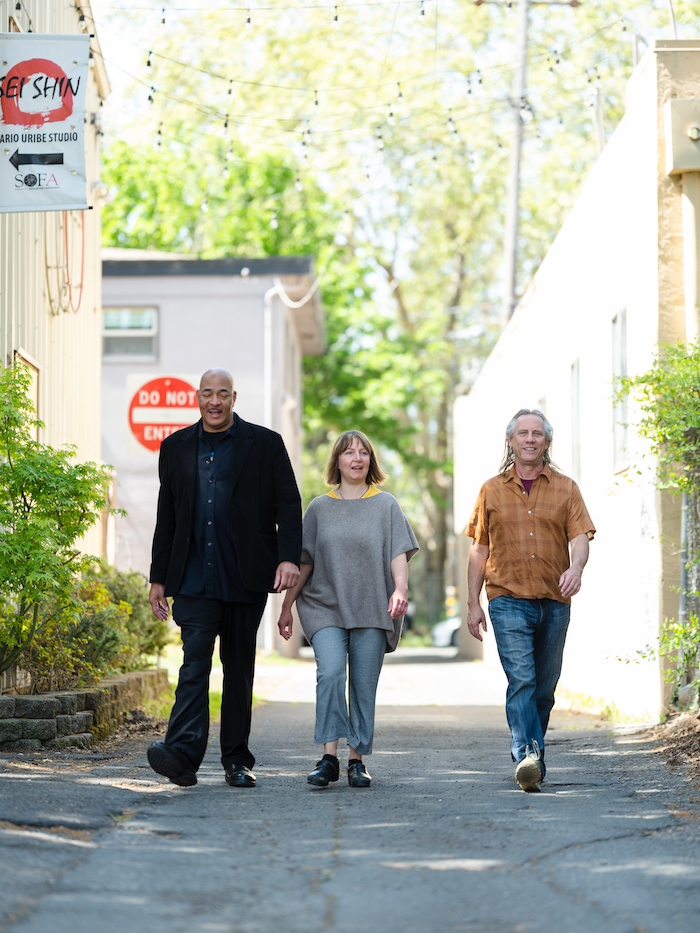 A RETURN
We are now entering a phase where the collective unconscious is grasping for a "return to normalcy." But what does that mean when nothing you have done has ever been "normal"? For the Imaginists, this is a time for what they consider a return to their roots, to simplicity: to an actual play. Although, this is no Tennessee Williams or Shakespeare. In fact, in true Imaginists form, it sounds less like a play and more like a singular avant garde affair performed by a cast of 12 that defies categorization.
Under the working title Someone Dies Again, or S D A, the Imaginists have commissioned acclaimed Hungarian theater director Árpád Schilling to create a new work that will bring his outsider's eye to examine the central role of guns and gun violence in contemporary American society. Staffer Cheryl Itamura says, "The new work will highlight a shared artistic sensibility that prizes risk-taking, experimentation, and theater as instigation and provocation."
This is a play being built from the ground up, condensing hours of improvisation into a script that incorporates real lived experiences, and contends with the foundational themes of family, grind culture and workaholism, avoidance of relationships and communication and truth-speaking, and how the gun, a uniquely American prop, is so easily accessible as a tool to circumvent reckoning with these issues. "And it's final, like the period at the end of a sentence," Pinto says
This is theater that is part of and a product of our world, not a distracting escape from it. In true punk rock form, they are not scared to tackle taboo subjects head on, using horror and humor, dismantling commonly-held constructs and severing all ties to convention in the process. The Imaginists' work feeds off of the conversations we collectively need to be having, holds a mirror to current events and attitudes and each other, and is somehow more truthful, more real than what is happening in the real world.
"We are not going back, we are going farther in," the Imaginists promise. "Come follow us."
Someone Dies Again will premiere May 20th at Z Space in San Francisco and will play at the Imaginists in Santa Rosa on June 2, 3, 4, 9, 10, 11.
More about Árpád Schilling:
Theater in the Woods podcast:
Photos by Paige Green Photo