Veronica Herico's Journey from Corporate Go-Getting to Culinary Adventuring
By the time she was 27, Veronica Herico had worked herself "to a puddy." She'd been ambitious her whole life—a degree from U.C. Davis, a fluency in Mandarin that took her to Shanghai for a year, and then to a job in SF doing PR for tech companies—but her soul was flagging. "I felt like I'd been working for 20 years," she tells me. "I didn't have good boundaries, I wasn't being intentional, I was constantly wondering, am I doing this because I want to or because I have to?"
Turns out, she neither wanted to nor did she have to anymore. Thanks to her savings, she was able to buy a one-way ticket to Madrid, pack a backpack, and leave it all behind. For a little over a year, Veronica traveled the world, from Europe to Southeast Asia to South America, finding opportunities through workaway.com to earn her room and board. In Chile, she worked in a vegetarian cafe and in the ag-focused town of Faenza, Italy, she worked on a vegetable and fruit farm. "And I know it sounds cheesy, but I just came back to the elements of life. Learning how to work the land, getting my hands dirty, using home-grown ingredients. I loved it."
Back from her travels in the summer of 2018, the Petaluma native started baking bread in her parents' kitchen. Drawing upon the skills she developed years before while working at The Coffeehouse, the student-run bakery/cafeteria at U.C. Davis since the 1970s, Veronica considered this a fun, temporary pit-stop until she decided her next move. Eventually she found herself volunteering in the kitchen of the Central Milling Artisan Baking Center, playing with dough and absorbing techniques from the legendary baker Craig Ponsford.
Then the pandemic hit, shutting down the baking school and drying up her freelance PR work. So Veronica kept on baking.
Headfirst Into Darkness
It's an oft-reported fact that some 20% of businesses fail within their first year, even in the best of economies. Still, according to the New York Times, the Small Business Administration issued some 300 start-up loans between mid-March and mid-April of 2020.
Some of those businesses did thrive—delivery and subscription services, grocery stores, game makers, therapists—thanks to people's shifting needs during the pandemic.
"It started with friends asking me to bake them a few loaves," explains Veronica, who celebrated the two-year anniversary of her baking company Pane di Vero in April. "It felt like there was a need, and even though I'd never done anything like this before, I love to go headfirst into darkness."
She advertised on the Petaluma Foodies Facebook group, garnered a few more customers outside of her friends and family circle, and started batch-baking loaves, pizza crusts, bagels, and cookies.
Delivering just made sense given that people weren't leaving their homes, she tells me, "and it gave me an opportunity to leave mine."
Instead of competing against farmers' markets vendors and all the incredible bakeries— "You can find great bread everywhere!"— she's keen to cultivate a smaller, community-oriented enterprise. Still, a year and a half after launching, her business was breaking even and she wondered if she could keep it up.
In the U.S., women-owned businesses receive 31% less funding than their male counterparts, even though the number of women-owned businesses has increased by over 100% in the past two decades, and the number of companies owned by women of color has increased 467%, according to a 2017 study.
Cuban-American Napa resident Carin Luna-Ostaseski understands this well. About a decade ago, she raised $50,000 on Kickstarter to become the first crowdfunded scotch company in history. "It was so hard to raise capital as a woman," she tells me over the phone, "because the purse-strings are controlled by mostly white men. Women have less money for marketing, advertising, inventory, which affects the speed at which you can grow your business."
In addition to her fundraising, Carin maxed out credit cards, got a second job, took out a loan on her house—and eventually launched SIA scotch in 2013 to wild acclaim. Carin knew the hustle, so she committed to donating a percentage of her profit to help other BIPOC small business owners in need of support. It started with $100 her first year, then $200, "and I remember being so excited when it hit a thousand." Last year, that number was a quarter of a million dollars—which, through a partnership with the nonprofit Hello Alice, was donated to aspiring entrepreneurs through their newly-launched Entrepreneurial Spirit Fund.
Out of over 6,000 applicants, Veronica, whose ethnicity is Puerto Rican and Filipino, was one of 25 to win a $10,000 grant: "Just the boost I needed to keep going."
"Vero stood out to me for her bravery in launching a business when she did, for the ways she supports her community," Carin tells me, adding that 2022's grant (which opens in August) will be solely for hospitality businesses. "This isn't only about money," she emphasizes. "I love mentoring these business owners, giving them the guidance and resources that I always wanted."
A Truer Bread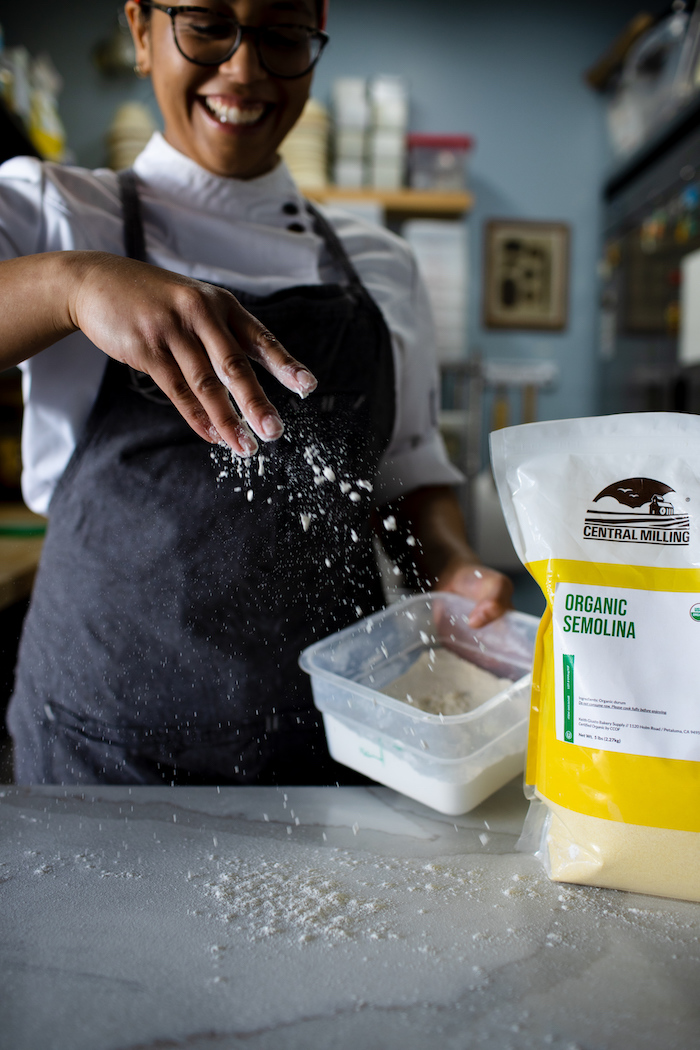 Pane di Vero is Italian for "true bread," a far cry from much of the preservative-laden stuff we're sold in grocery stores. In order to meet the demands of some 40 bi-weekly customers, Veronica devotes every other weekend to baking. The process starts Wednesday night with her "pre-ferments," that is, soaking the flours she's going to use in order to start breaking down the enzymes and sugar, to make things easier on the digestive system. This is also why she loves baking with whole grains, which are higher in fiber and loaded with minerals, B vitamins, and antioxidants.
"When you eat my food, you aren't getting a hit of sugar," she explains, but a nutrient-dense food meant to be savored. Her cookies are 100% whole grain, her Danish 50%, and all of her breads a minimum of 20%, with high quality organic flours she buys exclusively from Central Milling. "I admire their commitment to a healthy grain economy," she says, gushing over her favorite flours like dark rye and durum, which she loves for its bright yellow color and toothsome chewiness once baked.
With the oven going all Thursday and Saturday nights—the better to make use of their solar panels and to capitalize on the nocturnal cooling—Veronica listens to music, podcasts, or her own interior thoughts as she folds, tosses, kneads, and bakes tray after tray of cookies, croissants, bagels, loaves, and pizza crusts. Every loaf is a product of her sourdough starter, which she transitioned from a white flour starter to a whole wheat one by changing its diet.
On Fridays and Sundays, tired but fulfilled, she loads up the car and her dad or her boyfriend Jim drive her around Sonoma and Marin counties, making deliveries. Though she's still a one-woman business, her mom helps with dishes and either sister Angela or best friend Heather is by her side at pop-up markets.
Five years after freeing herself from the tyranny of nonstop work, 32-year-old Veronica is still unsure what the future holds. As she moves into the third year of her baking business, she's fine with that. "I have no rule book and things change from month to month," she tells me. "But I have flexibility and freedom."






VERONICA RECOMMENDS:
EL COQUI
Delicious Puerto Rican food and cocktails, and a friendly and lively atmosphere. You really can't go wrong with anything on the menu here. But if it's your first time, make sure to order the tostones montaditos, yucca frita, and chicharron de pollo.
ADOBOS N'MORE FOOD TRUCK
Pub-style Filipino food. My favorites here include the lumpia and the adobo fries. It's also a great catering option for parties— affordable, high quality, large portions. The truck jumps around to different locations each day of the week so be sure to follow them on social media for updates.
AMBROSIA
Authentic Indian food, wonderful service, great for takeout or for eating in, and they offer musical performances some weekends. Family favorites at my house include the samosas, pakoras, butter chicken, veggie korma and garlic naan.
MITOTE FOOD PARK
A fun spot for a sunny weekend excursion. Several food trucks specializing in regional Mexican cuisines. You can find delicious and authentic Mexican street food and all kinds of aguas frescas here. And if you've been wanting to try quesa-birria (if you know you know) this is the place to get it!
JAM'S JOY BUNGALOW
Place I am most excited to try next. Their bahn mi and fried chicken sandwiches look incredible!
Photos by Paige Green Photo