City Garden Doughnuts
by Anne Convery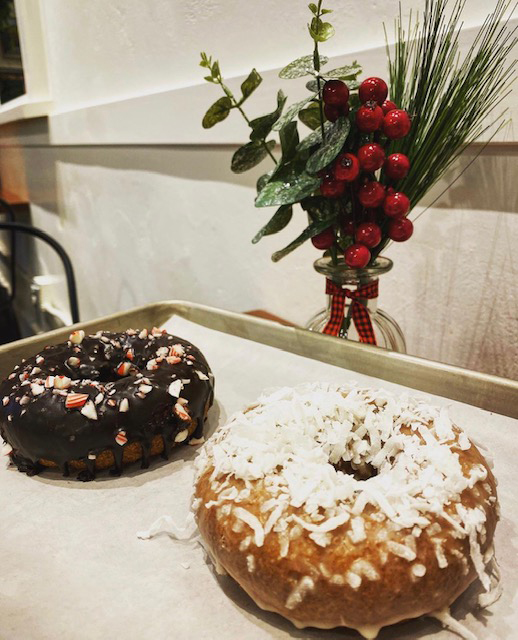 City Garden Doughnuts truly feels like a garden of sugary delights and great coffee. Owners Terri and Alan McCandless provide a welcome that's warmer than hot chocolate, and there are always seasonally specific surprises on the menu. Apple streusel donuts and pumpkin scones usher in the fall. Candy cane on brioche and sufganiyot, with a dusting of powdered sugar like snow, are just two of the treats we can look forward to for Christmas and Hanukkah.
If you or your loved ones have more traditional sweet teeth when it comes to donuts, the menu consistently features classics done right: chocolate brioche, cinnamon sugar cake donuts, and maple old-fashioneds, to name just a few. Or if you're in a savory mood, the Hobbs Scone is a perfectly browned wedge of buttery heaven generously filled with bacon, cheddar, and spring onions.
Coffee offerings are unique, too. Using Black Oak Coffee's excellent beans, the Café Borgia is a rich and delicious combination of espresso, mocha, and orange zest, while the Lover's Lane Latte will keep you buzzing with a shot of raw, unfiltered, local honey.
For the gift that keeps on giving, City Garden offers gift cards starting at $10.00, which would make for a sweet holiday surprise, tucked into one of their logo mugs or tumblers.
Order online and pickup same day, beginning at 7:30am, Saturday & Sunday. Curbside pickup also available!
1200 4th Street, Santa Rosa
citygardendoughnuts.com  |  707.595.1932
---
Walker Apples
by Sheila Shupe
Four generations of Walkers have been growing 25 varieties of apples on their 40-acre farm on Upp Road outside of Graton. If you go for a visit in November, you can expect to find Granny Smith, Rome Beauty, Pink Lady, and maybe even an Arkansas Black. The Walkers let you sample apples to your heart's content—so be sure your belly is empty when you get there. You can even sit on their famous old tractor that has been the star of many North Bay holiday cards and family portraits for years. I have pictures of my seven- and four-year-olds grinning ear to ear on that tractor for the past three Octobers—their favorite part.
The perfect gift for the baker in your life, $20 will get you a 20-pound box from an actual farmer. Even better, bring your loved one along for a quintessential fall experience. We love driving up the winding dirt road through the orchards, walking into the barn, and tasting the apples we just saw bursting off the trees (some of them 100 years old).
It's a treat just to talk to Sue Walker about her family tradition that goes back four generations to her great grandfather who first planted the orchard. Despite smoke, fires, floods and drought, the rich apple tradition of Sonoma County is still very much alive here. So head on up Upp Road to meander, munch, and tick another gift off your list.
Open 9am-5pm, seven days a week
10966 Upp Rd., Graton
707.823.4310
---
Miracle Plum Wine Club
by Jess D. Taylor
If you live in Sonoma County, chances are pretty high that you've got someone in your life who a) enjoys wine and b) is socially conscious. So what could be better than Miracle Plum's "Unsung" Wine Club? $55/month gets you two bottles of wine "made by women, BIPOC, queer folks, folks pushing hard against the industry standard, folks who make great wine but are often "othered" by the wine industry." Each bottle is accompanied by a detailed explanation of the winemaker, so you can expect an education about everything from the broad spectrum of biodynamic farming and deep roots of Georgian winemaking to a couple in Chile who ferments and filters wine through taut cow hides to how Megan Bell of Margins Wine in Santa Cruz helps small family farms transition to fully organic.
Miracle Plum's Gwen and Sallie have truly scoured the globe for these most dynamic and offbeat wines—like La Araucaria Tinto made from Listan, an indigenous red varietal with no genetic relation to any other grape on earth (cultivated in the volcanic soil of the Canary Islands) and made by Dolores Cabrera Fernández, who works solely with a team of women and ferments with native yeast in a steel tank. By the time I finished reading through a few descriptions of interesting people doing innovative things, I went online and signed up.
Want something a little less edgy? Also available for $55/month is the Get What You Get Wine Club, or if you're feeling super generous and fancy, the Very Serious Wine Club ($150/month) which includes sumptuously named selections like Fabio Gea 'Cul Otte' Vino Rosso and Cornas Cuvee Casimir.
Sign up online:
miracleplum.com/collections/wine-club/products/unsung-wine-club
---
Reishi Roast
by Ursa Born
Way back when I was pregnant, I switched to half-caf coffee in an attempt to cut down on my caffeine intake. That worked really well, but even though I stuck with the half-caf, soon after I basically just began drinking twice as much coffee. A few years ago, I discovered Reishi Roast, created by Herbalist Amy Charnay and Herbalist/Farmacopia owner Lily Mazzarella, who spent five years developing the formula and very carefully vet the source and quality of each ingredient to their exacting standards. This rich, creamy, robust antioxidant and adaptogenic blend of medicinal mushroom extracts, herbs, cacao, and superfoods is designed to be brewed with or instead of coffee.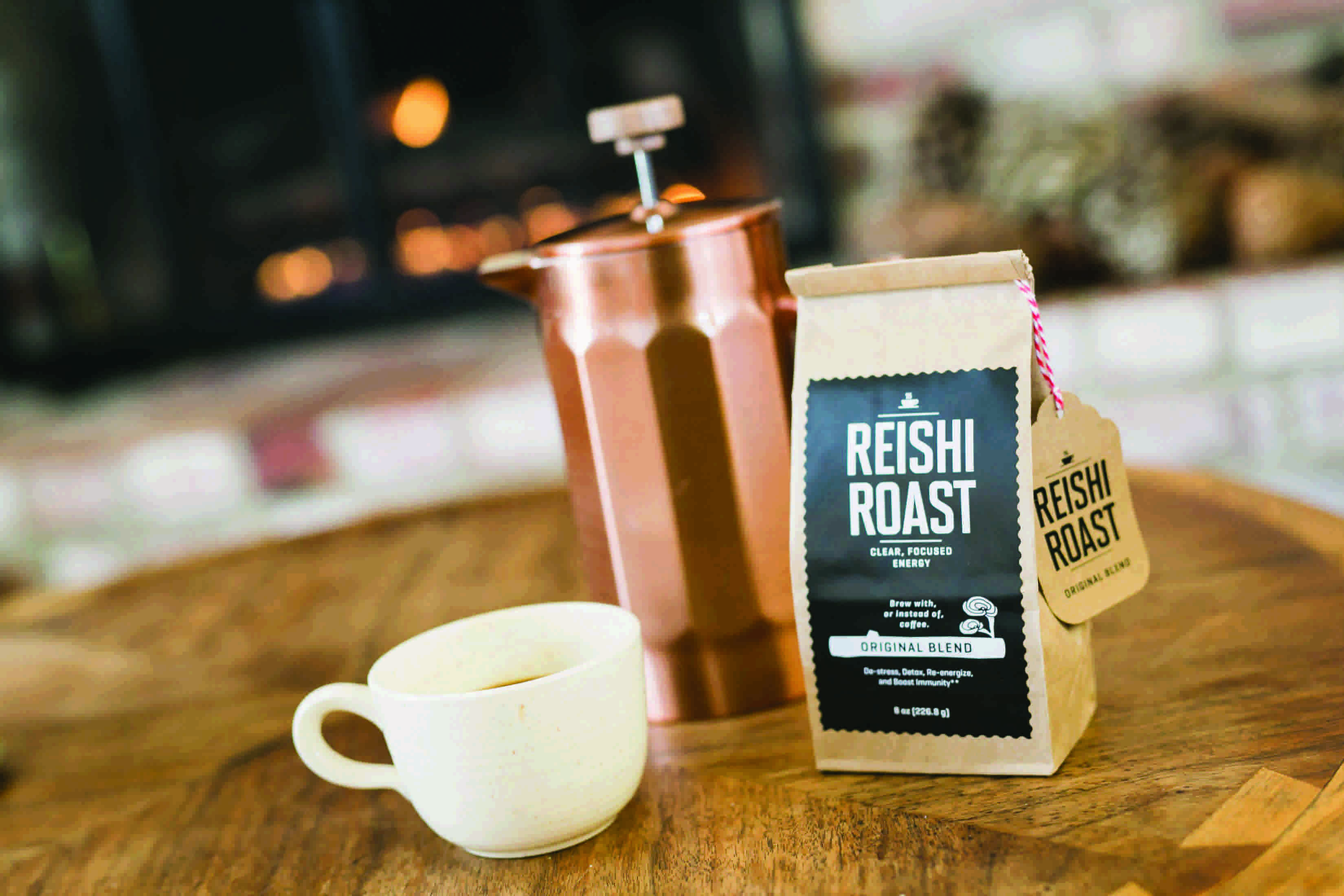 Among its many benefits, its creators tout this delicious brew as supportive of the immune system and adrenals, nourishing the nervous system and providing clear, focused energy. The healthful blend includes reishi and chaga mushroom extracts, roasted dandelion root, milky oat spikelets, mesquite pods, milk thistle seeds, cinnamon bark, and Himalayan salt. But what really informs its distinctive, exquisite flavor is the forward ingredients cacao and chicory, which impart the best of both coffee and a hot cup of cocoa—without the buzz or burnout.
Reishi Roast 8 oz. bags are available exclusively at Mazzarella's herbal apothecary and integrated pharmacy, Farmacopia in Santa Rosa, or they can be ordered at Farmacopia's website for $25.95 (and a little goes a long way). My mother-in-law is not a coffee drinker so she brews her Reishi Roast straight and loves it so much that anytime I need to send her a gift, Reishi Roast is a no-brainer. Shipping her at least three bags a year has kept me in her good graces.
As for me, I mix it in my French press with my half-caf, essentially rendering my morning coffee quarter-caf, meaning I can now drink four times as much.
Farmacopia is located at 95 Montgomery Dr #90, Santa Rosa, CA
farmacopia.net/products/reishi-roast-original-blend
---
Three Sisters Apothecary
by Sheila Shupe
I knew I was hooked when I went in to buy my third tin of Three Sisters Apothecary body butter in one week. Eucalyptus and menthol with arnica for my 70-year-old aunt in Indiana, Meyer lemon lip balm for my 7-year-old daughter, and sweet orange coconut for an old friend who had just ridden her bike 75 miles to see me. It felt so good to hand them something beautiful, natural, and nourishing, knowing that everything that went into the product was thoughtfully selected, crafted, and packaged.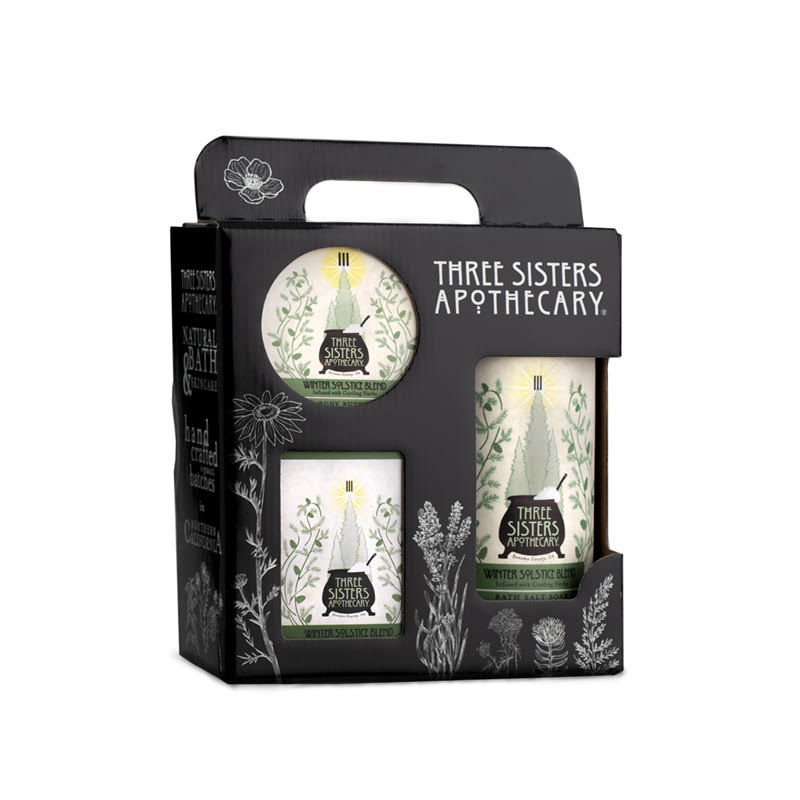 Emma Mann has a long tradition in natural products in Sonoma County, getting her start working with Traditional Medicinals after their tea, Mother's Milk, helped her feed her newborn daughter. She is the youngest of three sisters and works weekly with her older sister Pandora and her daughter to craft these luscious soaps, butters, lip balms, shampoos, and conditioners. They even have a dog shampoo line called "Soapy Tails" for those of us buying for the furry loves of our lives.
The minute you open a bar of soap or a tin of body butter, you can smell and see that the beauty is more than skin deep. Mann set out to create something healing for ourselves and our planet, responsibly sourced, and sustainably packaged: one shampoo bar sold in a small cardboard box will wash your hair as long as three plastic bottles of liquid shampoo.
Mann and her family collaborate on new scents and imagery, and you can just feel the love and thought that goes into everything they make. Grab some and see for yourself, and if you are like me, you will quickly be back to buy some for your best sister (or mister) this holiday season. Because when Three Sisters calls something Harvest Pumpkin, it's not the same old spice combo colored orange, it's body butter with real pumpkin in it. And if you're not sure what pumpkin will do for your skin, just head to their website and check out Emma's curated herbal almanac of ingredients. These treasures aren't just for surface appeal—they're made to heal, created by sisters who know their stuff.
Order directly (or find list of local retailers)
---
Equi-sense
by Anne Convery
An experiential program where folks disconnect from technology to connect with nature, horses and themselves, Equi-Sense delivers the quintessential holiday experience: an opportunity to spend quality time and make memories with family and friends.
Equi-Sense founder Dr. Erica Tom and her team run programs for individuals and groups. More recently, Dr. Tom has "had a lot of fun facilitating couples sessions! Equi-Sense provides an outdoorsy date experience, where you get to learn about each other and bond through activities with horses." Sure beats another dinner-and-a-movie date.
My horse phase was over at about nine years old, so as an adult, I was skeptical about being able to bond. But the Equi-Sense experience teaches you how to read the body language of horses and develop feelings of trust and companionship with these animals in a relatively short amount of time. It was a game-changer for how I felt about my place in the larger natural world and my own ability to listen and be a more effective communicator.
Not to mention, just scritching a horse behind the ears and getting some horsey kisses made my blood pressure drop. No, really! Research shows that time in nature and with animals can decrease your heart rate and boost immunity, too. That's a gift we could all use to close out 2020.
Private – $100-150/hour sliding scale
2-4 people -$100/hour per person
5-8 people -$80/hour per person
All sessions are specialized to the individual and group
equi-sense.org  |  707.486.3490
---
Dogwood Botanicals
by Jess D. Taylor
My daughter had a skin irritation that no cream or salve could ameliorate—until a little miracle jar of Calendula Rose Face and Body Cream from Dogwood Botanicals arrived in a slim cardboard package. Co-owner Katie Pilgrim has a remarkably similar story that ends the same as my daughter's: after using the cream for a few days, her skin cleared right up, gone the way of summer.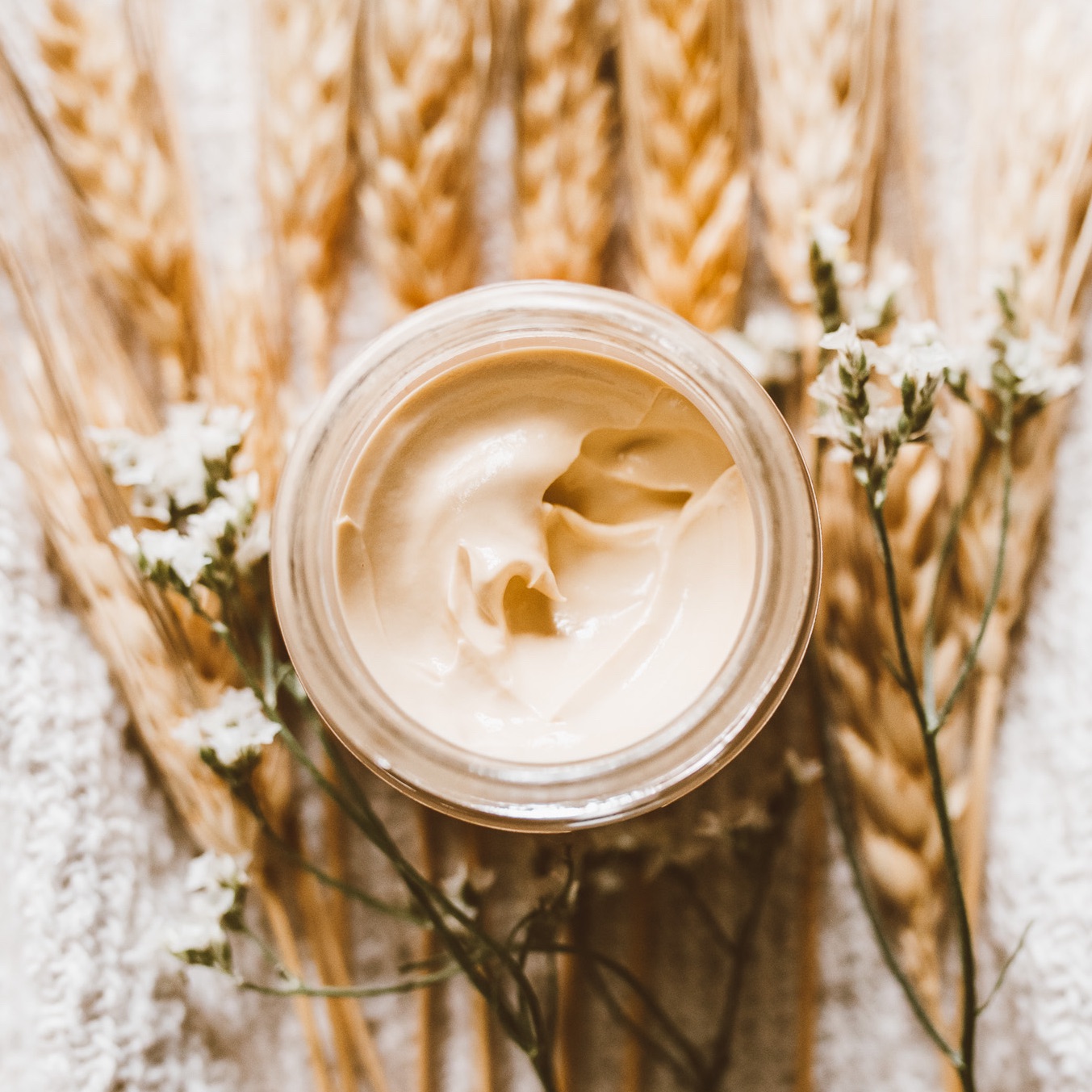 At $55 for a one-ounce bottle, it ain't cheap—but this magical stuff lives up to its price tag, and a little goes a long way. Katie and business partner Jamie Boling, both from Knoxville, Tennessee, spent six months developing their CBD "dream cream," collaborating with Farmacopia's Lilly Mazzarella on texture, ingredients, and smell. Using only single-source hemp grown on an organic family farm in Colorado, their cream is manufactured in small batches at Pure Analytics, a woman-owned lab in Santa Rosa where they go "above and beyond the minimum testing for pesticides and cannibinoids."
Instead of essential oils, the cream—which "can be used anywhere on the body, and by anyone"—is made with rose hydrosol, calendula flower-infused grapeseed oil, and hemp extract that delivers 175 mg of CBD per ounce. Check out their website for illuminating info about our endocannibinoid systems that modulate pleasure and well-being and are important in both preventative and healing wellness.
Not only are they pioneers in a male-dominated field, Katie and Jamie just like doing the right thing—whether it's sending care packages to Knoxville's Health Department to promote wellness and express gratitude or donating beyond their 1 percent commitment to anti-racist organizations like Cannabis Impact Fund or the Floret Coalition (publisher of the popular Broccoli magazine), which is also devoted to holding the industry accountable.
With testimonials from all over the country, from the location of their home office in Santa Rosa's West End (where Jamie has lived for a decade) to their native great Smoky Mountains to the sun-drenched fields of Colorado, Dogwood Botanicals is living up to its tagline: Folk wisdom meets modern wellness.
Find both their cream and CBD oil at Farmacopia, 95 Montgomery Dr #90, Santa Rosa
---
Rec Def Bandanas
by Jess D. Taylor
Todd Barricklow recently unearthed a bunch of his old ceramics buried in a forgotten corner of his yard—decades-old relics bearing reductive images that capture his evolution as an artist. In college, he studied both ceramics and block print-making, and for years his twin passions lived separately—until the day he coated a white piece of clay in black dye and started carving into it with tools like scrapers and dental picks for detail. His two favorite media came together, and his signature sgraffito technique was born.
As one of the founders of Santa Rosa's popular (and now defunct) Handcar Regatta, Todd enjoys the conflagration of art and machine. So it's unsurprising that he's developed a series of Recreational Defense Vehicles inspired by an imagined future in which literal and metaphorical firestorms have destabilized housing to such an extent that people are forced to build one-of-a-kind machines for survival. "These vehicles must provide all terrain movement as well as defensive armaments, high-point lookouts, and overnight accommodation," explains Todd, who's rendered these creations on little paper tags, sculptures made of ceramic, metal, and wood, even one with a full-size bed that's road ready—and now, capturing the pandemic zeitgeist, on bandanas.
Like his vision and his output, these bandanas are original, subversive, and fun. Available in black, gray, and natural cream, they're 100 percent cotton and soften nicely after washing. Each quadrant has a different Rec Def Vehicle on it, affording the wearer four different looks if using as a mask. They're printed in California with water-based inks, and even the packaging is intentional and sustainable: only cardboard and paper tape in a reusable envelope (save for an inch of cellulose tape, which he's working on eliminating).
Bandanas are $15 and can be found, along with other delightful bits of whimsy, on his website:
shoptod3d.bigcartel.com/products
---
Changewerks
by Jacqueline Smith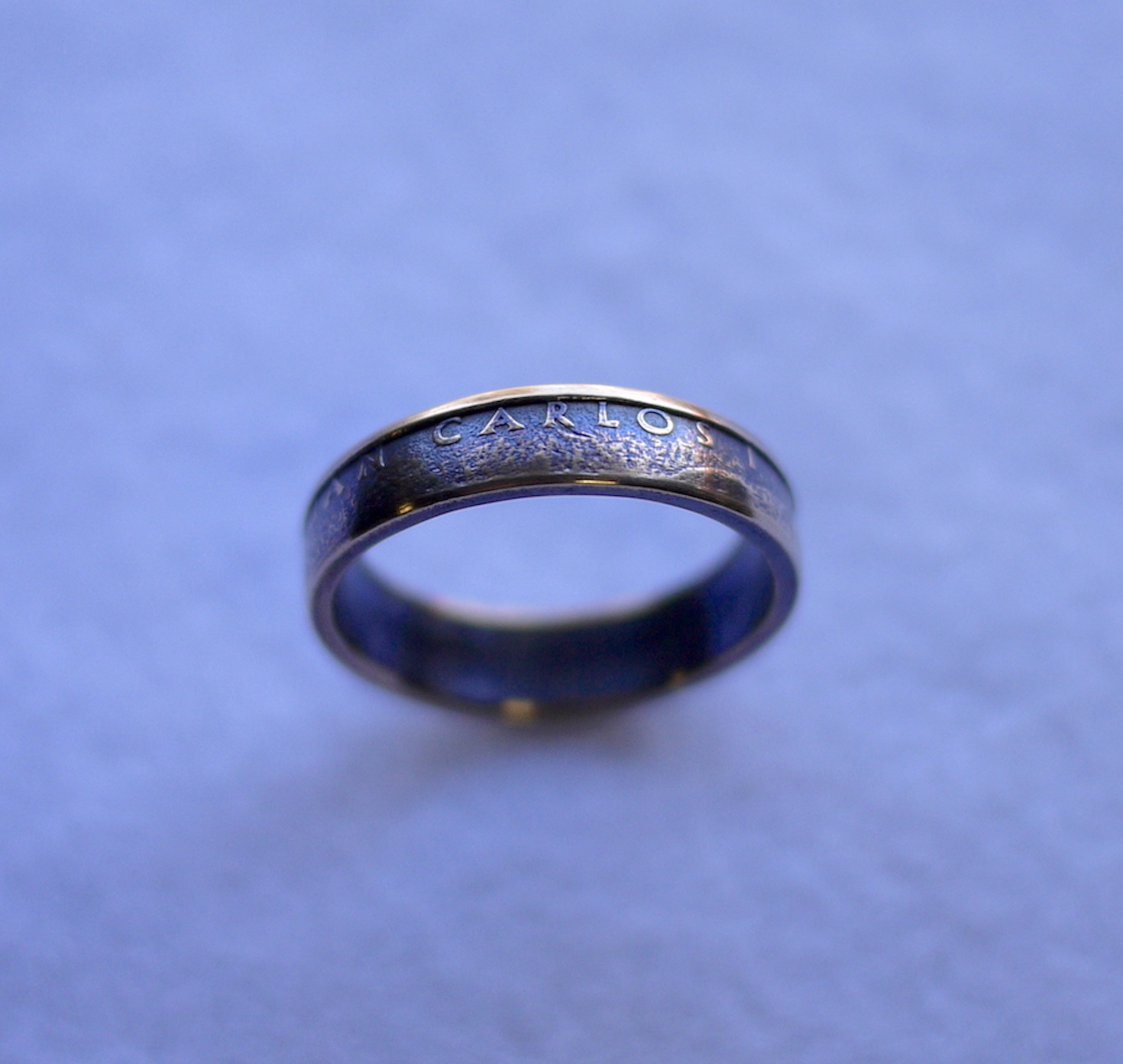 As the one-year anniversary of my beloved father's death approached, I pondered how I could honor him. Sifting through some of the old coins and knick-knacks that I saved from his armoire, I recalled my friend Klaus Rappensperger and his coworker Adam Medders, who started making beautiful jewelry out of old coins when tasked with finding a way to salvage some silver dollars that barely survived the 2018 Paradise Fire. Klaus explained that after lots of trial and error, he was impressed with the transformation of old coins into beautiful rings. This was the inception of what is now Changewerks.
This week, I pulled out a few of my dad's Puerto Rican coins that he'd saved from over 35 years of annual trips to the island. Changewerks transformed the coins into an exquisite ring that I will treasure for years to come. Changewerks takes pride in crafting quality rings that can honor so many different life events—travel, graduation, marriage, birth, death, etc. They're also committed to making a change in the world by donating up to 25 percent of all sales to a charity that combats systemic racism and racial inequality. What a perfect way to both honor a memory and support social justice—or, as they put it, "Treasure your fingers and fight for equality."
In Memory of Stephen P. Lichtstein  10/19/1946-10/18/2019
---
Jewelry by Jamie Jean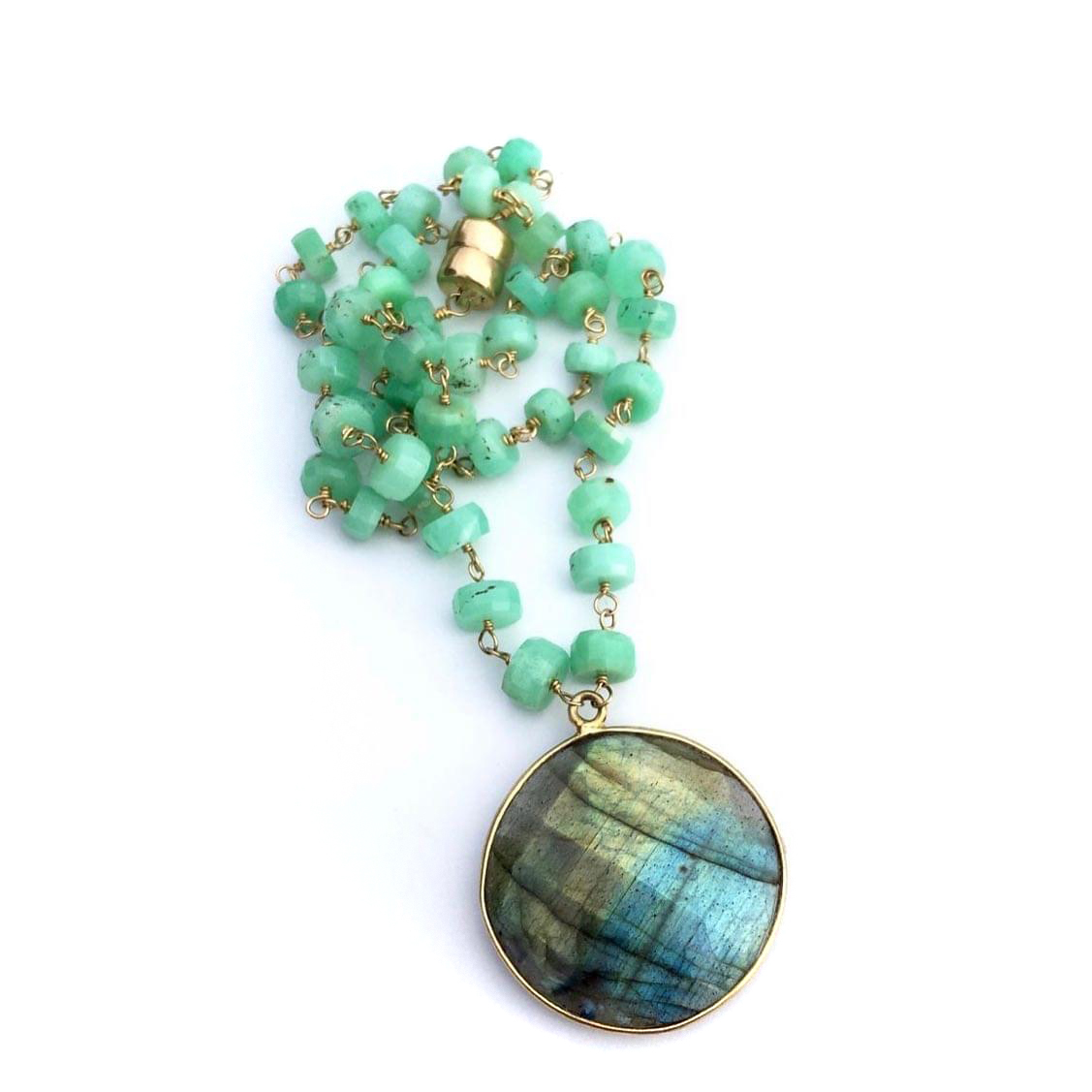 by Anne Covery
Amethyst, carnelian, a vintage whistle or a gilded shark's tooth: the stones and charms she incorporates into her unique pieces may come from all over the world, but Jewelry by Jaime Jean is as Sonoma County as the artist herself. Growing up on the Russian River and along the Sonoma Coast, Jaime spent her days "searching for arrowheads, polished rocks, sea glass, agates." She reminisces, "Pretty much anything I could throw into my rock tumbler. It was my love and joy of these things that inspired me to create jewelry." And now it's our joy to gift and wear them.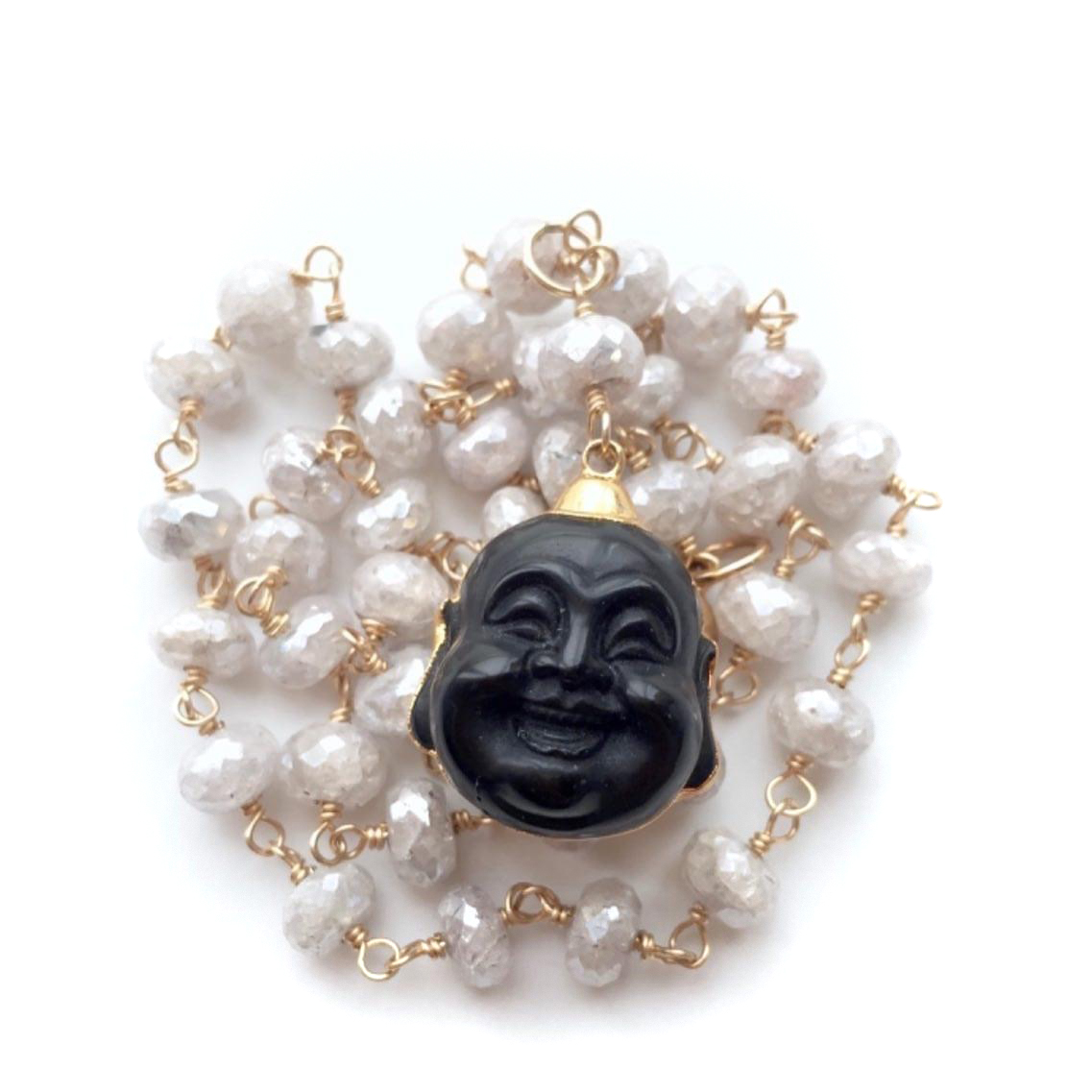 The designs of Jaime Jean's earrings and necklaces are as varied as the nature she draws inspiration from, and with prices starting at $25.00 there is truly something for everyone here. "Here" being JamJar, the boutique of thoughtfully curated original art, jewelry, and home goods Jaime created with best friend and fellow artist Molly Perez. With not one but two Sonoma County locations (Healdsburg and Guerneville) as well as an online store, you can put the sparkle in your holiday, tick off a good portion of your shopping list, and still shop local without leaving the comfort of your home.
16290 Main St, Guerneville  |  707. 508.6664    
126 North St, Healdsburg  |  707.480.8506
---
St. November
by Jess D. Taylor
"I want you to buy something that's a treasure, not a trend," says designer and dressmaker Theresa Hughes, who works out of a studio near the old G&G Market in Santa Rosa. For those of us who love clothing but not the environmental havoc wrought by the fast fashion industry, buying a hand-made piece of clothing that's made to last can be a small step in freeing ourselves from the cheap chain-store shackles. Yes, paying for the labor, materials, and craftwomanship will cost more than we're used to, but putting money directly into the hands of a working artist pays off in more ways than one.
Professionally educated and trained, Theresa has worked for scores of designers, including Hurley, Marmot, and CP Shades. Silks from Thailand, wool from Italy, organic hemp and cotton—Theresa finds the fabrics, creates the patterns, stitches and sews, even fits the clothing on herself. She loves wool for its sustainability, enjoys the versatility of linen, and wrestles with the challenges of velvet because of its popularity.
"I don't want to make a bunch of stuff," Theresa tells me. "I want to make things to order because there's less waste." She invites people to make an appointment to check out the wares in her studio—low pressure, easy browsing—and glimpse the mechanics of turning raw material into wearable art. Theresa will happily make custom pieces of any size, and her website (clean and classic like her clothing) showcases her selection of white eyelet tops, velvet skirts, dreamy dresses, and more. Prices range from $100 for a top to $285 for a velvet dress.
Given the excess and waste of late capitalism, there is no better time to embrace her motto: "Buy less, buy better."
Find St. November clothing at various craft fairs this season and on her website: