Hair for All Humans
by Ramona Camille
A couple of years ago, I came up with the idea of becoming a Traveling Hair Artist, inspired by my love of Hawaii and the laid-back island vibes. I loved watching the locals selling wood carvings or snorkeling trips or other creative endeavors that helped support them in an expensive area. As a native of Graton and a single mother, I can relate. I know what it's like to be poor, to make do with what you've got, and as an artist, I am always creating.
I see hair as a block or stone or flowering hedges. I see each thread of color as shadow or light—much like drawing or painting. I create custom color patterns and designs with my foils and my paintbrush, and I also enjoy barbering tribal designs, lotus flowers, and leopard prints with my eclectic clippers.
After nearly 14 years behind the chair in a traditional salon atmosphere, I was ready to branch out! The pandemic has provided the perfect opportunity to launch my traveling hairstyling business in my blueberry-dream-machine Toyota Yaris hatchback. I arrive at a private yard, always masked, and within minutes pop up a comfortable and stylish salon—foldable salon chair, umbrella, collapsible shampoo bowl, compact broom, suitcase, extension cord—much like how Mary Poppins pulls a children's nursery out of her bag.
When I'm not creating hair art, I enjoy going to the coast with my puppy, Sailor Moon, and raising my 11-year-old son, Judah.
Help spread the word, not the virus!
Call to make an appointment: 707-292-3856
Instagram: @ramonarainbowhairartist
Facebook: Ramona Rainbow Hair Art
---
Apples-A-Plenty
by Paula Downing
Wondering what to do with all those apples ripening on your backyard trees? Given the risks of COVID-19, the Apple Core's Community Apple Press will not be in operation this season. However, Slow Food Russian River has a couple of sweet options for you.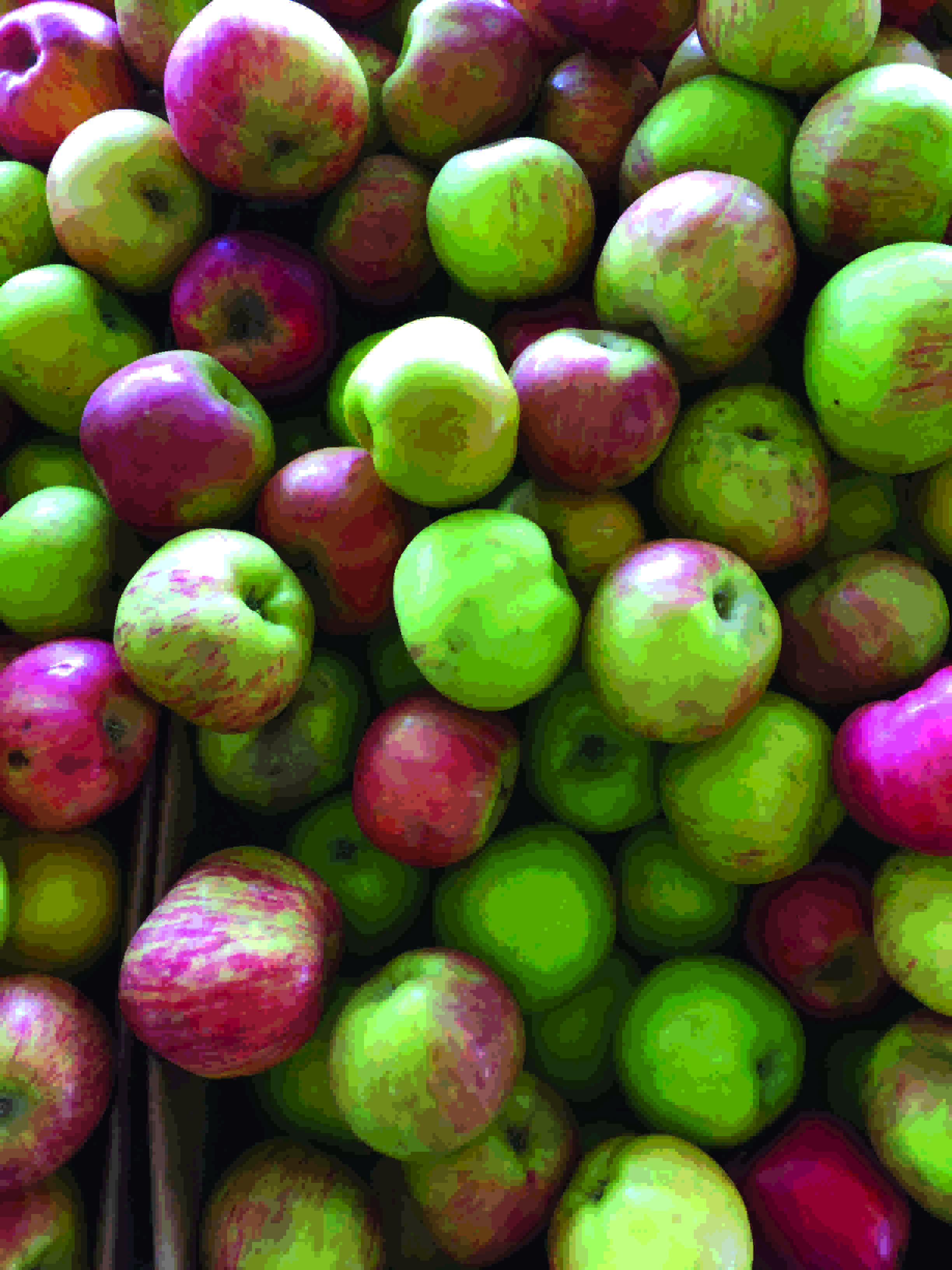 We can collectively have apples pressed at Apple-A-Day Ratzlaff Ranch, our hometown commercial apple pressing facility located on Occidental Rd in Sebastopol. Their minimum processing order is 1,600 pounds of apples. The juice you receive will not necessarily be from your own apples. For example, if you contribute 100 pounds of apples, you will receive 1/16th of the total juice. It costs about $3.00/gallon to press.
In this time of great loss for so many—evictions, unemployment, school closures and the loss of breakfast and lunch for low-income children—donating apples is a simple way to help. You pick and deliver to a designated site (to be determined), or we will send a truck to pick them up. If you need help picking, please let us know. We have groups of volunteers willing to pick larger quantities. Slow Food Russian River can provide a letter documenting your donation for the IRS if you need that.
If you want to be part of either option, please contact:
Paula Downing at (707) 829-3494 or hotpeppers@pon.net