The Sunrise Movement has risen in Sonoma County & they won't stop until they get a Green New Deal.
Growing up in Koreatown, a neighborhood west of downtown Los Angeles, Janina Turner didn't go camping. She didn't go to the park—there weren't any near her home. Driving past oil wells and derricks was normal. Smog was "just this thing that happened."
"Camping [in nature] was this weirdly elitist thing that I'd never done and never wanted to do," she says. In her childhood and teen years, during the first decade of the 21st century, she didn't give much thought to the environment or the whisperings of a climate crisis.
At the same time, Turner grew up in a "very political, nonprofit setting." Her father worked at the Greenlining Institute, which focuses on racial and economic justice. Evening TV sessions tuned into The Daily Show with Jon Stewart and The News Hour with Jim Lehrer. But it wasn't until she moved north to attend Sonoma State University, getting involved in environmental justice work on the campus and venturing into nature regularly, that her gaze turned towards the climate emergency.
When the results of the 2016 presidential election hit like a bomb, Turner was motivated to get more involved in direct action, be on the front line, do something. And then she saw footage of the Sunrise Movement doing a sit-in at Nancy Pelosi's office, agitating for the Green New Deal: a livable future, good jobs, and a swift, "just" transition to clean, renewable energy.
"I thought, 'What is that? And how can I be involved?'" recalls Turner. A coworker at a local climate policy nonprofit invited her to a new Sunrise Movement meeting in Santa Rosa. Turner, now 26, went. "I immediately got to work," she says.
A Movement Rises
Turner was recently elected as a lead organizer within the Sunrise Movement's Sonoma County hub. On a Thursday evening in January, Turner co-facilitated, with casual confidence, a meeting of more than 30 people ranging from ages 13 to 50. The majority were teens and young adults—not surprising since Sunrise Movement explicitly defines itself as a youth-led movement for people ages 13 to 35.
The local hub became active last spring, fizzled out over the summer, and then was reignited by Christine "Zuzu" Byrne, a local teacher in her early 30s. They began meeting at the Arlene Francis Center in Santa Rosa in the fall of 2019, organizing around a global climate strike in late September.
The hub sprung out of a robust national movement that first started rumbling in 2015 but found its north star when Representative Alexandria Ocasio-Cortez (D-NY), a democratic socialist from New York, introduced the Green New Deal to the American public in February 2019. Co-sponsored by Senator Ed Markey (D-MA), the resolution places at its center a commitment to halt climate change with a combination of livable wages and renewable energy across the nation. (See sidebar on page 41 for more.)
"I think it's really vital that this is a youth-led movement because youth traditionally have been marginalized in terms of leadership," says Sierra Downey, the current Solidarity team leader for the Sonoma County Sunrise Movement hub. "They brush off our ideas as juvenile. But this is our future, and if we don't fight for it—well, we cannot trust the adults, who have had power all this time—we cannot trust them to deal with the climate crisis on the scale that it needs to be done."
Which Side Are You On?
Inspired by activists like Xiuhtezcatl Martinez and Greta Thunberg, and her own experience canvassing for Caitlin Quinn's successful campaign for the Petaluma City School Board, Downey joined the Sunrise Movement in Spring 2019. Downey, 26, grew up in Petaluma and went on to get an undergraduate degree at Fresno State. When she returned home from college she wanted to get involved in the environmental justice world but wasn't sure how. And then she stumbled upon something about the Sunrise Movement in a friend's Instagram stories.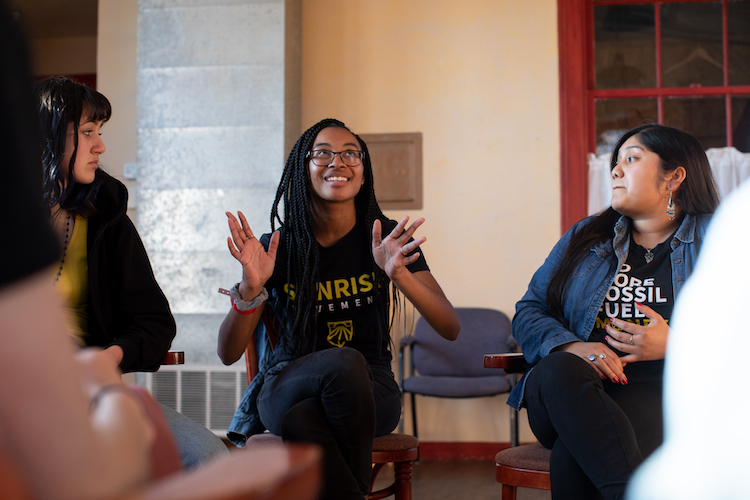 The movement tied together so many things Downey was thinking about: the climate emergency, her generation's struggle to pay off student debt and find affordable housing, the way that front-line communities were suffering the impact of climate change before anyone else.
"For my generation, the status quo is not maintainable," says Downey. "It's not achievable. And I don't even know if that's what we want. We'd rather have a secure future where we can all breathe, where we can go in the waters. We cannot have business as usual. It's impossible."
Downey, who works full time in content marketing, participated in her first Sunrise Movement action at a well-attended Green New Deal Town Hall at the Sonoma County fairgrounds. Along with two other young women, she stepped onto the stage and sang a political, climate-centered song for the large crowd. Singing, in fact, plays an important role in Sunrise Movement meetings. They end each one with a song—usually something inspired by labor movement tunes from the mid-20th century, with the words changed to reflect current reality.
At the end of the January meeting at the Arlene Francis Center, Downey led the group in a rousing version of "Which Side Are You On?"—originally composed by Florence Reece, a poet and activist, during the 1931 Harlan County coal strikes:
Which side are you on now?
Which side are you on?
Storms surge and fire burns but you don't hear the call
'Cause fossil fuels keep paying you
Does it weigh on you at all?
The movement also hosts launch parties across the U.S., encouraging young people to screen galvanizing documentaries. They favor direct action, organizing regular strikes, rallies, and sit-ins. In September, the group was behind the school walkouts and climate strike and rally that marched from Santa Rosa Junior College to Courthouse Square. Two months later, they joined a large-scale protest outside the PG&E headquarters in San Francisco. In December, three dozen youth staged a "die-in" at Santa Rosa Plaza.
Earth Day Plans
In short, they've already made their presence known. The group has even joined the parade of endorsements for Democratic presidential candidates. Downey and Turner say the Sunrise Movement analyzed all of the candidates using a scorecard system, looking for the one most aligned with the Green New Deal. At the end of the process, Sunrise officially endorsed Bernie Sanders 2020 run for president.
But what they're really focused on is the upcoming strike planned for Earth Day on April 20. Meetings are centered on planning direct actions in the days leading up to the big event. For Janina Turner, and every other young person in the Sunrise Movement, this isn't only about protest. It's about survival.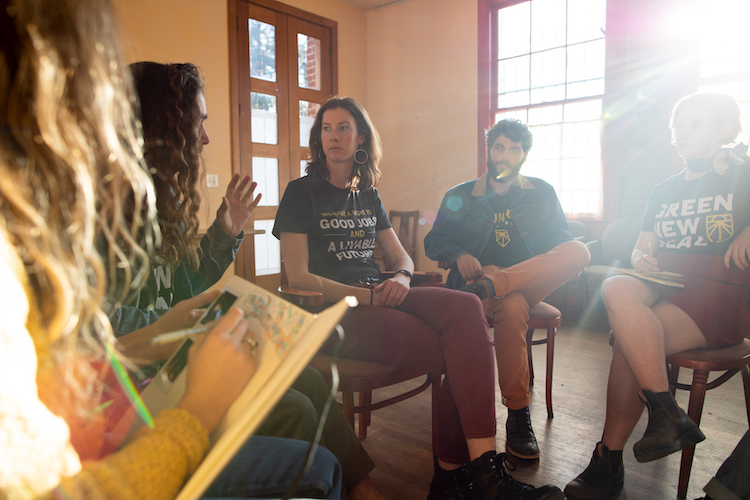 "I'm concerned for my future," she says, her voice coursing with urgency. "I'm concerned for everyone's future. I'm concerned for humanity in general. We are in the midst of a sixth extinction. All of this could end within a century. I think that's absolutely insane. I want to preserve humanity. Is that crazy?"
sunrisemovement.org
facebook.com/sunrisesoco
instagram.com/sunrisesoco
What is the Green New Deal?
Sponsored by Representative Alexandria Ocasio-Cortez (D-NY) and Senator Ed Markey (D-MA), the Green New Deal is a non-binding resolution, framework, and 10-year plan for a wide-ranging policy package that would drastically cut carbon emissions across most sectors of the economy while creating jobs. One of its main goals is a carbon-neutral and economically equitable economy. The resolution also pays special attention to poor, disabled, and minority communities that might be disproportionately impacted by such a big transition. It was inspired by Franklin Delano Roosevelt's original New Deal. The idea first gained traction in 2007 and was included as part of Barack Obama's 2008 platform, as well as Bernie Sanders' 2016 presidential campaign.