For me, the winter holidays are synonymous with tamales.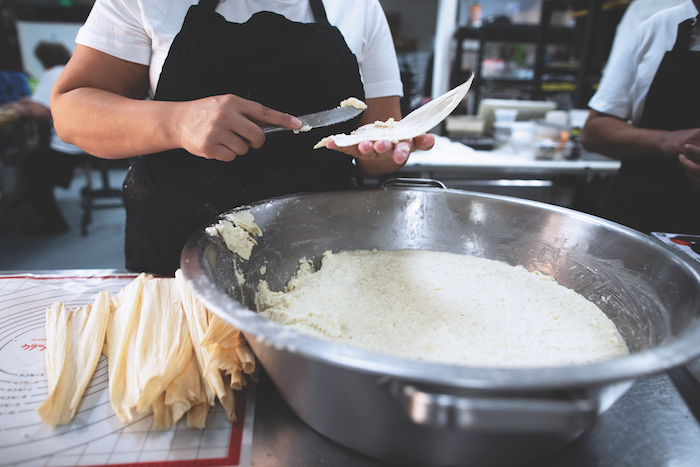 My family has only attempted to make them from scratch a couple of times. The time-intensive process was a chance to bond and laugh over corn husks, but with everyone strapped for time these days, we didn't carry it on. Generally, my mom orders them from a family-owned restaurant in north San Diego county. She arrives home on Christmas Eve with a few dozen tamales, which immediately go into a gigantic pot on the stove to be steamed and served for dinner. On Christmas morning, we devour them for breakfast, filing up on masa, cheese, pork, and red chili sauce to bulk up for the parade of present opening. For this reason, it was a joy for me to head out and interview a local family that's carrying on their grandmother's tradition of making tamales from scratch, without the industrial masa harina. Read the story on page 12 and let us know what you think: Where do you get your favorite tamales in Sonoma County?
On another, incredibly important note: As we went into production on this issue, the Kincade fire bore down on Sonoma County. All told, 190,000 people were evacuated, including myself. The experience left me with a mix of climate anxiety, sorrow, gratitude, and awe. Climate anxiety, as I wonder what's in store for us if we don't make society-wide changes now to our consumption patterns while demanding environmental responsibility from corporate polluters; sorrow, for those who lost their homes and saw their lives upended by blackouts and fire; gratitude, for the strength and generosity of this community and the thousands of firefighters who came to our aid; and awe at the power of nature. As we heal from this latest disaster, I wish you a beautiful holiday season filled with laughter, love, friendship, and family. And remember, please buy and support all things local. Whether you invest time or money, your energy is an investment, an infusion, and a way to lift all boats. Best to you and yours.