Crooked Goat Brewing
From Taylor Maid coffee to backyard honey, you can taste Sonoma County in Crooked Goat Brewing is something-for-everyone menu.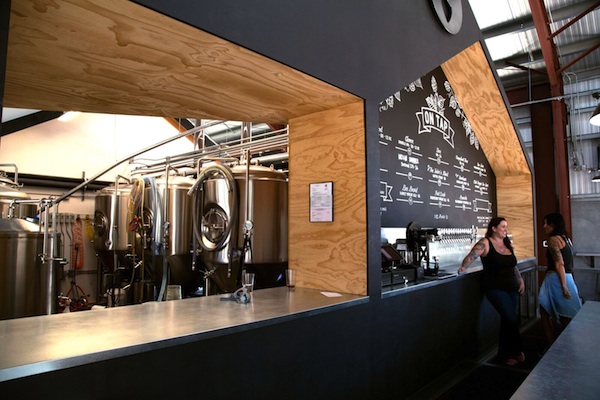 "Local sourcing is our focus, as much as possible," says brewmaster Will Erickson on a recent Tuesday morning, roughly a month after Crooked Goat Brewing slid open its roll-top doors to the public for the first time on Aug. 18. We're standing around the galvanized steel bar; a black-and-white "on tap" menu scaling the wall backs up his words. There's the Bee Beard, made with honey from local friends' hives, and The Taylor's Maid, brewed with coffee from down the street (Crooked Goat is a leisurely block-and-a-half from the two-story caffeine temple). Also in the works: An apple-infused beer—yes beer, not cider—made with Sebastopol's pre-grape fruit de fame.
Of course, not everything comes from what Erickson dubs the surrounding "bread basket for agriculture." The Grain & Blood, a blood orange double IPA, is made from citrus sourced outside the county. And, save for harvest time, most of Crooked Goat's hops come from the Northwest. But whether purist locavore or not, the menu feels worthy of its ag-meets-Laguna backdrop, where heirloom is queen and a thriving grange hall sits right down the highway.
The brewery will offer new beers weekly with a wide selection on 15 taps. And while the "I-don't-drink-fruity-beers" crowd shouldn't be too worried—these brews are a far cry from the pumpkin ale college kids drink as a "nice crossover" from Mike's Hard Lemonade (disclosure: I may once have been one of those kids)—there's also plenty of bitter offerings to please the more traditional California palate.
Take the Ibex, a barely-sweet IPA with the kind of complex, pine-needle undertow that comes from really good hops. It's Crooked Goat's most popular pour so far, Erickson says, and it's easy to see why. But the more adventurous drinks retain that complexity while adding some of the best flavors of a sunny clay-soil garden. The Bee Beard combines wheat with a warm burst of orange blossom honey and the Chili Pepper 10-4 is an Octoberfest with a hint of sweet spice from pasilla, poblano, and Anaheim peppers.
Erickson has been brewing for 20 years, most recently at Moylan's in Novato. What started as a home outfit with the other founders gained momentum with a People's Choice Award at the 2015 Santa Rosa Battle of the Brews. The group's new Barlow space is a sparse testament to the marketplace's silo chic aesthetic, all exposed metal, clearstory windows and hanging black-topped lamps. Right now, Crooked Goat offers soft pretzels and gourmet popcorn (Bloody Mary flavor anyone?), but beer-sippers can order in pizza and barbecue from other Barlow restaurants.
Still, the real standout here is the beer. Whether drawing from the flavors of blackberry, grapefruit, or good old-fashioned aromatic hops, Crooked Goat's diverse menu is a welcome addition in an IPA-dominated scene.
120 Morris St., Suite 120. Sebastopol
707.835.4256|  crookedgoatbrewing.com
---
101 North Brewing Company
In Harry Potter, Diagon Alley is a magical street hidden from Muggle eyes, its wand shops and goblin-operated bank a world away from the hum-drum London streets around it. I think about Harry's revelatory first visit on a recent Friday afternoon as I wander down Scott Street in Petaluma, which is basically the North Bay's Diagon Alley for beer and spirits.
Lagunitas' silver tanks lord over the turnoff from North McDowell Boulevard. Petaluma Hills Brewing Company's tasting room sits on the northeastern corner. Griffo Distillery lies a little further down. And finally, past home-improvement stores and pocket-sized lawn squares, you'll find the new tasting room for 101 North Brewing Company.
101 North began wholesale distribution in September of 2012, but the space opened on St. Patrick's Day of this year. It's downright pretty inside: Old-fashioned wallpaper, lamps with cobalt blue glass, a chandelier, copper and reclaimed wood behind the bar. As it turns out, the decor is an homage to several founders' (at least) four-generations-back Petaluma roots, modeled on a farmhouse that belonged to Joel, Jake, and Joey Johnson's grandparents.
It feels like the kind of place where you'd sip a delicate vial of blackberry cordial in your
Sunday best—but that's hardly brewmaster Joel Johnson's style.
"We're mostly known for Northern California-style IPAs, which is the broad term for big, hoppy ales like Racer 5, Pliny, and Hop Stoopid," says John Lilienthal, one of 101 North's founders along with the Johnson brothers, John Brainin, and Anthony Turner. "That's what we grew up drinking and liking.
Both Johnson and Lilienthal used to work at Bear Republic—Johnson as a brewer and Lilienthal as head cellar man. The popular Heroine IPA tastes like a bolder twist on the Racer 5, subtler than the Hop Stoopid, but still characterized by what the 101 Website calls "immodest hop additions." The Naughty Aud, an imperial stout also on tap, has a chocolate-and-molasses start with a bitter kickback at the end. And the Golden Naked is a classic summer afternoon golden, all light sweetness and grain.
The space features eight taps with four rotating pours (expect a barrel sour coming soon). Food from food trucks is available on Saturdays.
1304 Scott Street, Petaluma
707.778.8384| 101northbeer.com