Stolen Fruit Cocktail Mixers elevate wine industry discards.
Verjus, a fresh-pressed vinegary juice made from the unripe green grapes thinned from vines halfway to harvest, has long been a popular cooking ingredient in France. Used since biblical times to add an acidic touch to food, outside of chef and foodie circles, verjus isn't as familiar in the United States. Stolen Fruit, a Healdsburg company that launched in June, aims to change that with a new line of cocktail mixers that place wine industry discards—unripe grapes and dried grape skins—squarely in the spotlight. The name, in fact, is a subtle nod to the gleaning element of the ingredients.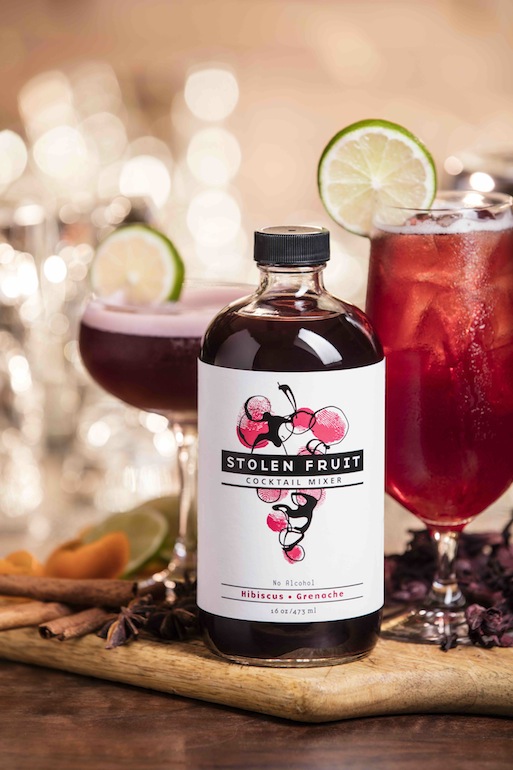 The company is a business partnership between long-time Dry Creek Valley grape growers Doug and Susan Provisor and Chef Peter Brown of Healdsburg. The concept for the wine-inspired mixers was born of a dinner conversation over a bottle of grape juice. Not the sickly sweet, corn syrup-drenched juice of childhood—this was a memorably delicious single varietal grape juice from Navarro Vineyards and Winery.
"Peter and I really loved it, and we were talking about why wasn't there more of this type of product out there," says Doug Provisor. "That led to a conversation about low-alcohol and no-alcohol beverages and why there weren't a lot of options that had the complexity, layers of flavor, nuance, front forward palate associated with wine."
At the time, Provisor was also watching with interest the explosion of boutique wineries, craft breweries, and spirit makers in Sonoma County. But with 4,400 wineries in California, wine, in particular, was a busy, flooded market. He wanted to start a business but hadn't quite landed on anything yet.
"I wanted to find something, take a risk, and get ahead of the curve," he says. "Cider is now growing, and I sort of kick myself for not having done cider years ago." Inspired by companies like The Owl's Brew, known for tea-infused cocktail mixers, Provisor and Brown began to research an emerging market for "all-in-one" mixers. These are mixers that, theoretically, are complex enough to allow one to make a cocktail or mocktail with just one additional ingredient: spirits or sparkling water.
Last fall, Brown, who has a background in commercial food product development, began the process of researching low-alcohol drinks. The goal was to create an all-in-one mixer that could be paired with a variety of foods, just like wine. He eventually settled on a prototype for what would become the base of the entire line.
"We wanted something that was layered, interesting, and complex with a good mouth feel and finish," Brown says. "A sophisticated alternative—for non-drinkers—to lemon water and the limited options that were out there. And we wanted something grape-based, something that represented and was inspired by our lifestyle [in Healdsburg]."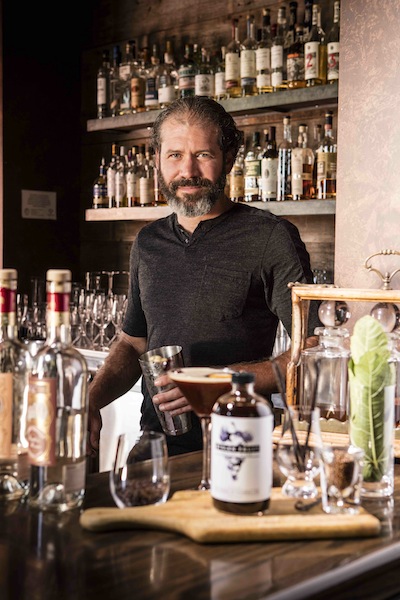 After a few whirlwind months of prototyping and testing, Brown settled on a blend of one single varietal grape juice, verjus, and dried grape skins. The line officially launched in June with five flavors: Lemongrass Ginger Sauvignon Blanc, Jasmine Juniper Viognier, Hibiscus Grenache, Fig Grains of Paradise Zin, and Blood Orange Muscat. The mixers are available on the company's website along with select Bottle Barn stores. A 16-ounce bottle runs about $18.
According to Provisor, one challenge came from the desire to make use of discards from the wine industry that are often "either thrown away or not used to their highest potential." In this case, green unripe grapes turned into verjus and dried grape skins. They were able to source the grape skins from Kendall-Jackson in Santa Rosa. The verjus comes from a company in Napa that uses grapes sourced from local wineries. The concentrated varietal grape juices come from Amador and Lodi counties. With no added sugar, the mixers get their sweetness from the concentrates. The end result is a mixer with a subtle acidic taste, not as vinegary as might be expected. Stolen Fruit's Lemongrass and Ginger goes well with sparkling water. Add two ounces of vodka to make a simple spritzer. Tuck in some mint and you have a simple, easy cocktail without much fuss.
Production happens locally at a small Dry Creek Valley copacking plant on the site of a former Christmas tree farm and sun-dried tomato processing facility. Under Brown's supervision, the crew produces small batches of the mixers.
"It's extremely hands-on," says Brown. "None of this is more automated than the conveyor belt that the bottles, which are then hand-loaded, go on."
"We wanted to make it in small, handcrafted batches—handcrafted to celebrate our local area," adds Provisor. "That meant working with people from here, investing in our local community, and investing in our local economy. This [business] was born out of a love of friendship, food, wine, and Sonoma County."
Recipes
---
Lemongrass Ginger Drop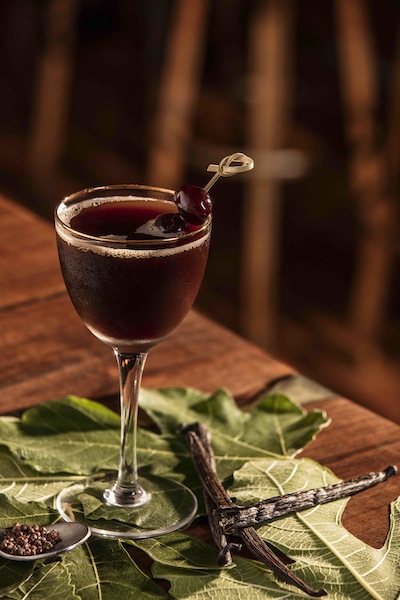 1 1/2 ounces Lemongrass Ginger Sauvignon Blanc mixer
1 1/2 ounces vodka
1/2 ounce lemon juice
Shake all ingredients and strain into a chilled martini glass.
Fig Grains of Paradise Manhattan
2 ounces Fig Grains of Paradise Zin mixer
2 ounces bourbon
dash of bitters
maraschino cherry
Shake the bourbon, mixer, and bitters over ice. Strain into a chilled martini glass and garnish with a maraschino cherry.