How hardy, primitive sheep can weed and clothe you.
Two years ago, Leslie Adkins and her husband Alden drove their Prius from Massachusetts to California with unexpected hitchhikers in the back: Two cross-bred Ouessant lambs.
A primitive sheep breed originally propagated for fiber by peasant women on the rugged and grassy island for which they're named, the sheep hail from a tiny spot of land just 12 miles off the coast of Brittany, France. Virtually unseen after WWI, these small, hardy, and easy-to-handle animals returned to public consciousness in 2013 when Parisian mayor Bertrand Delanoë approved the use of four Ouessants to graze on his city's properties.
Adkins, a fiber artist with an environmental science background, became intrigued with Ouessants during a visit to Europe the same year Delanoë was placing sheep around Paris. At Heartfelt Fiber Farm, her small place just outside of Santa Rosa, she already had a diverse array of fiber animals: An alpaca, a llama, dairy goats, and several Icelandic sheep, so it was only natural that, on the way home from Europe, she and her husband took a detour to visit Breton Meadow Farm in Lincoln, Massachusetts.
There, Karen Seo and Ray Tomlinson are single-handedly introducing Ouessants to the United States through a complex up-breeding process that involves imported Ouessant sheep semen and artificial insemination with Shetlands. The goal of up-breeding these "Ouessants-in-progress" to pure-bred status has been stymied by a recent U.S. ban on imported sheep semen. Adkins hit it off with the couple and, before she knew it, she and Alden were the proud owner of two lambs—the first of their breed to reside in California.
Adkins hopes to see the population of these diminutive sheep—believed to be the smallest in the world, they grow to just between 18 and 21 inches tall—in coastal areas of Northern California increase to the point where they have a beneficial impact on sustainable farming, land management, and fiber production. 
"Ouessants are great for small holdings, to naturally graze and fertilize with a low footprint," says Adkins as we tour her three-and-a-half acre property. She introduces me to Agnes, a full-grown Ouessant/Shetland mix that weighs in at a compact 45 pounds or so. As I scratch Agnes' fleecy chin, Adkins describes how the sheep were bred to provide soft wool for the handspun black garments worn by all married women on the island of Ouessant. Unlike modern, factory-bred sheep, cultivated for their white fleece, these sheep—thought to have been brought by Vikings to the coast of Brittany—are typically caramel, brown, and black, with a few whites thrown into the mix.
Primitive breeds are stronger, healthier, and heartier than modern breeds. If those die out, we lose out on 10,000 years of breeding and genetics.

Marie Hoff
Adkins found the prospect of lustrous and naturally colored wool attractive, especially for the hats, scarfs, and other wearable items she knits and sells at the Point Reyes Farmers' Market. She's active in the Northern California Fibershed, a global "soil-to-skin" movement started in 2011 by Rebecca Burgess, who successfully wore only garments sourced from a 150-mile radius of her West Marin home for a full year, proving that it was possible.
The experiment has since grown to embrace an emerging and vibrant global system of affiliates. Fibershed aims, its materials state, to build—through strategic grazing, conservation tillage, and soil-carbon enhancing practices—a "nourishing tradition that connects the wearer to the local field where the clothes were grown." 
Since Ouessants graze like champs and produce as much as 10 percent of their relatively small weight in wool each year—an amount comparable to larger sheep but with a lower carbon footprint— Adkins sees them as a perfect match for the Fibershed mission. She currently has four Ouessants living at Heartfelt Fiber Farm, with pregnant ewes promising lambs in the spring. With the purchase of two rams by her friend Marie Hoff of the Capella Grazing Project, which launched in 2013 to focus on grazing-as-lawn-mowing in agricultural applications, the flock is expanding.
Hoff, a 31-year-old Valley Ford resident with a dance degree from U.C. Berkeley and a passion for holistic grazing management, had worked at Heartfelt, and that got her thinking about the Ouessant's potential for grazing vineyards, small farms, and orchards in Sonoma County.
She'd heard about the real benefits of vineyard grazing in terms of reducing the amount of fossil fuels used for mowing and weed-whacking as well as eliminating pesticide use. Employing sheep instead of machines seemed to mitigate all of those problems. That is, as long as they grazed between harvest and fruiting; turns out, sheep love to eat grapes.
"Primitive breeds are stronger, healthier, and heartier than modern breeds," Hoff says of her decision to shepherd Ouessants. "If those die out, we lose out on 10,000 years of breeding and genetics."
Soon, another seven ewes, bought at a discount from Breton Meadow, were on a truck headed to California, the first to be enlisted in Hoff's Capella Grazing Project, a modern-day take on the ancient shepherd tradition.
On a warm sunny day in late January, 14 Ouessants, including a diminutive ram, alternate between grazing and napping on a steep, grassy hillside above Jenner. Hoff rents the sheep to the landowner. Before this, they grazed at Littorai Vineyards in Sebastopol. Since agricultural land in Sonoma County is prohibitively expensive for most small farmers and ranchers, this nomadic arrangement allows Hoff to work without having to outlay a huge amount of cash for her own land. At each location, she sets the Ouessants up with water and electric fences to keep out predators, moving them through a system of rotational grazing.
I watch as she gracefully moves the fencing from one spot to another, coaxing the sheep to their new digs where they munch voraciously on everything in sight: Coyote brush, coastal prairie grass, blackberries, poison oak, and even the occasional Douglas fir sapling. 
Soft-spoken with rosy cheeks and dark hair, Hoff could be a figure straight out of a 19th century Jules Breton painting were she in flowing skirts and a peasant blouse instead of jeans and a cut-off T-shirt. She kneels in the warm, sweet-smelling grass, pointing out the efficiency of her sheep's grazing patterns, how their light hooves barely leave dents in the earth. She's moved the flock lower down on the hill near a towering line of Douglas firs. While an abundance of trees is usually considered to be a good thing, because of the disappearance of such wild grazing animals as elk and deer, the natural ecosystem up here is out of whack, and the trees are encroaching on the meadow. The sheep help balance the natural order and reduce fire hazard, Hoff says.
The sheep help balance the natural order and reduce fire hazard.
"The grasses in this coastal prairie still think animals are here and grow accordingly," she says as she tugs at tufts of grass. Hoff sees these sheep as a missing link in an ecological approach to land management, a counterpoint to the adverse effects of mowers. She recalls a conversation she'd had with the owner of this hillside in which he related that the use of industrial machines had prompted the thistle population to explode and encouraged the growth of non-native grasses, leading to even more work.
Last fall, the funds from a successful Barnraiser campaign allowed Hoff to purchase two rams from Breton Meadow with the promise that none of the resulting offspring would be sold on the market. Now, she looks forward to the prospect of growing the Capella Grazing Project with new spring lambs.
"It's a fledgling project," she says, adding that she intends to eventually have at least 60 animals. At the same time, she'd like to inspire more vineyard, orchard, and small farm managers to find ways to incorporate Ouessants into their ecological land management practices. Once the rotational grazing is finished up here on this Jenner hillside, she'll move the sheep to Heidrun Meadery in Point Reyes, where they'll graze for over a month. The owners are interested in eventually establishing their own flock, so this offers them an opportunity to see how the system works, in effect making Hoff a consultant as well as a shepherd.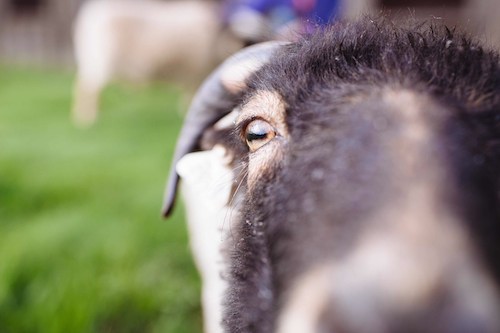 "Some people rent out sheep and literally just drop them off," she explains. "With Capella Grazing Project, you're renting the whole package of land management and not just renting the animal." It's an impressive leap for someone who grew up in urban Southern California and hadn't set foot on a farm until four years ago.
Once shearing is completed in early March, she'll sell the fleeces to interested buyers and put anything leftover up for sale on the Fibershed marketplace. As with Adkins' Ouessants, these heritage breeds do double-duty.
Hoff says she's most interested in discovering how these primitive breeds, with genetics so deeply entwined with their landscape, adapt to their new Sonoma County digs.
"They were bred in concert with the landscape in Ouessant," she explains. "And their lineage was largely unchanged for over 10,000 years. So, how do I make a primitive sheep applicable in the coastal California environment?"
If the ancient sheep's industrious contentment on this late January day above the Sonoma Coast is any indication, they'll do just fine. In fact, it's easy to imagine Ouessants in vineyards, orchards, and ranches across the county—with shepherds like Hoff and Adkins following close behind.
Article Resources:
barnraiser.us/projects/a-boyfriend-for-capella-grazing-project