Holiday Green for Your Highness
by Mina Rios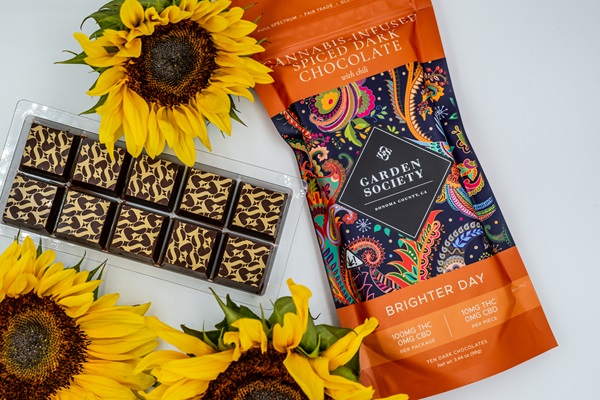 Since its inception in 2016, the Garden Society founder Erin Gore has been on a mission to break cannabis stigma barriers, create premium cannabis products, and educate people about its many benefits. Living up to its full potential, the Garden Society now prevails as a trusted brand of sustainably sourced cannabis from Sonoma and Mendocino County farms.
Gore developed a taste for cannabis in 2008. As a chemical and biological engineering graduate versed in how compounds interact within the body, Gore was motivated to experiment, combining cannabis strains with high-quality edible ingredients. Intent on creating supremely good cannabis edibles that could rival products on the market, Gore set her mind to achieving some tasty results. By hosting garden parties featuring her creations, she put her concoctions to the test. The positive reception conjured stimulating conversation among women seeking more balance and joy in their lives, budding into an esteemed new business concept. "That was my impetus to quit my corporate job and start a company focused on quality products and education for cannabis," says Gore.
Taste drives the Garden Society brand while their effect-based system helps guide consumers toward a comfortable cannabis experience. All products are made in-house and sold in recyclable packaging.
Consumer favorites include Wine Country Gummies, best for microdosing in modest quantities. Dosages are lab tested and regulated, and take effect within minutes through rapid release technology. Garden Society products are sold in over 300 dispensaries in California, Ohio, and New Jersey.
The Garden Society
Product Menu
Blissful Rest for a peaceful rest or body ache and pain relief; available in full flowers, pre-rolls, tart cherry pinot noir gummies, and milk chocolate with sea salt
Brighter Day for a positive lift; available in full flowers, pre-rolls, peach prosecco gummies, and spiced dark chocolate
Calm and Focus for clarity; available in pre-rolls, sparkling strawberry rosé gummies, and milk chocolate with chai
Joyful and Present for increasing focus and mindfulness; available in pre-rolls and kiwi lime sauvignon blanc gummies
411
---
Sonoma Grown Skincare
by Jess D. Taylor
At KM Herbals, the same handful of people who harvest the lavender for a salve or chamomile for a cleanser, will also do all the infusing, mixing, cooking, filling, labeling, and shipping to doorsteps across the country.
"The lab staff has a real relationship with the product," says Bonnie Campbell Rivard, who, as one of six admin staff, has been in charge of marketing and social media for some seven years. She also happens to be the inspiration for the entire enterprise, which celebrates its 30th anniversary this year.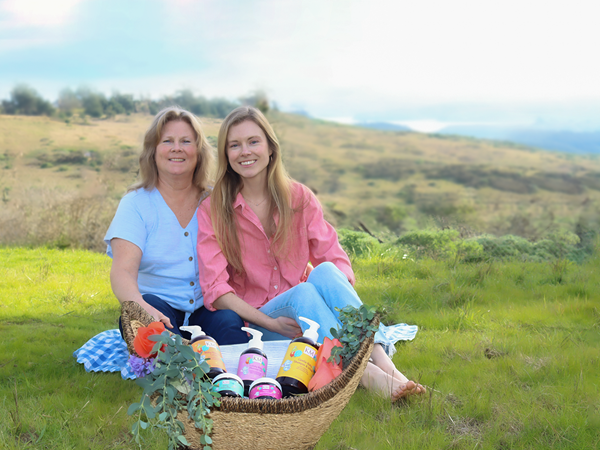 It all started in 1992 with her mom, Kim Manley, master herbalist and aromatherapist, who wanted gentle, plant-based, chemical-free products for the baby she would soon give birth to. Kim's first product was homegrown; a healing herbal salve with calendula, plantain leaf (good for cleansing), and comfrey (known for its anti-inflammatory and cell-regeneration properties). Lotions and soaps followed.
"Kim was way ahead of her time," Bonnie tells me. "She felt and identified a need early on for clean products, which has become heightened in recent years."
The clean beauty is an eight-billion-dollar industry that's expected to nearly double in the next five years.
According to one New York Times report, nearly one third of all beauty product companies claim to be clean. So what does that label even mean?
"Terms like natural have been watered down and overused," says Bonnie, explaining that what sets them apart is their commitment to sourcing plants locally or, if that's not possible, sustainably. Their plants are organic and wild harvested—many of them grown in their very own permaculture garden. Their products contain no synthetic preservatives or fillers, and everything is manufactured by hand at their 200-acre facility in Dillon Beach, where they've been since 2000.
From selling at the farmers' market with baby Bonnie strapped to her back to supplying local spas and businesses with over 200 products—50 direct to consumer—Kim's business, like the rest of the industry, continues to grow. Covid gave them an unlikely boost, as their purifying mist and hand sanitizer, made with non-drying organic grape alcohol, were big hits.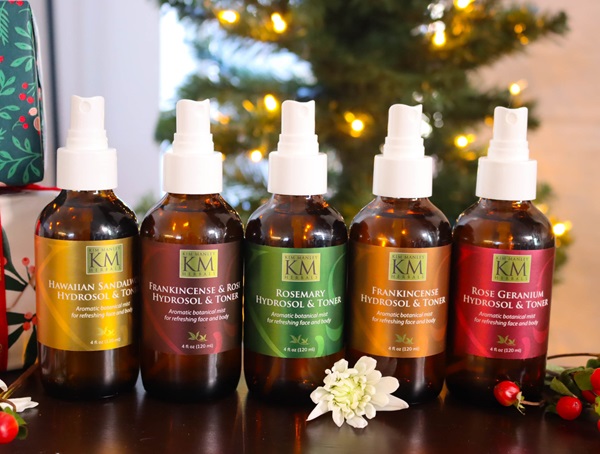 Best-selling products include the rich facial Althea Rejuvenating Moisture Creme with marshmallow and aloe; Protective Hand Crème; Sleepy Thyme roll-on oil with lavender, thyme, marjoram, and chamomile; Aromatherapy Bath Salts; Nº. 2 Bathroom Spray with citrus oils; Bulgarian Rose Hydrosol and Toner; and that original Healing Herbal Salve.
Their Chamomile Facial Gel Cleanser with strawberry leaf is a favorite in my household, effective enough for more mature skin and gentle enough for my preteen, and I adore their Cellular Renewal Complex serum, which leaves my skin hydrated and glowing.
"We value effectiveness," says Bonnie. "My mom's passion has always been in harnessing the therapeutic value of plants."
411